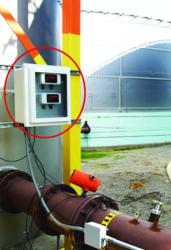 I have a laptop at home, so DigaLink allows me to monitor the plant from wherever I am which has helped a lot! - Randy Mattison
Cleveland, OH (PRWEB) June 02, 2011
Flow Line Options Corp. (FLO-CORP), a leading manufacturer and national supplier of measurement and control instrumentation, today announced that Case Farms, a fully integrated poultry farming and processing group, has selected DigaTouch™ Advanced Universal Process Display and DigaLink™ Remote Monitoring Software for its wastewater pretreatment facility in Winesburg, Ohio. FLO-CORP's innovative system is currently being used to remotely monitor flow and tank levels throughout the plant.
Poultry processing plants, as in many other food processing activities are typically high water users, sometimes using more than one million gallons per day. Additionally, due to the characteristics of food wastewater, a unique pretreatment is required. The wastewater produced at most food processing facilities is considered to be organic or nontoxic; however, the biological oxygen demand (BOD) value of food wastewater is much higher than most municipal utilities and requires additional energy to handle. As a result many public treatment facilities have implemented additional fees to manage food wastewater.
To reduce wastewater management costs, many food-processing facilities like Case Farms have developed onsite pretreatment systems. The benefits of this development have been significant at Case Farms; in helping to reduce costs, hosting onsite pretreatment has helped to increase overall sustainability. The Case Farms Wastewater Plant has been in operation for more than 20 years and, with the addition of new processing technologies, has since increased their water efficiency by recycling the processed water to preform non-contacting operations (i.e. gears, machines).
Randy Mattison, wastewater manager at Case Farms, understands the benefits of onsite pretreatment. He explained that FLO-CORP's advanced process technology is being used at the wastewater plant to manage four separate processes, including flow equalization basin (FEB) flow, nitrogen flow and two clarifiers. There is a total of 4.5 million gallons of used water dispersed between each of the tanks onsite. Collectively, FLO-CORP's technology has increased efficiency at the plant by allowing the plant operators to manage and collect important data from remote office locations.
"I have a laptop at home, so DigaLink allows me to monitor the plant from wherever I am which has helped a lot," said Mattison. The remote monitoring software, called DigaLink, is an interactive software that allows users to configure and remotely monitor DigaCom and DigaTouch displays from the convenience of their PC. DigaLink is unique in its communication protocol that uses both TCP/IP Ethernet and Modbus/RS485 serial communication simultaneously. This advanced software features display configuration, data logging and real-time monitoring of unlimited devices.
"The Case Farms story is a great example of the benefits our customers receive with our remote monitoring, alarming and notification systems," said Dave Grumney, president of FLO-CORP. "With our technology, you can configure a flow or level meter, monitor unlimited inputs, data log and receive email alerts on your smart phone or remote PC from anywhere there's Internet or cell access. Plus it's super economical since there are no monthly user fees."
About FLO-CORP
Incorporated by the State of Ohio in 1988, Flow Line Options (FLO-CORP) began as a small distribution company and has evolved into a leading manufacturer and supplier of flow, level and display instrumentation. In 1999, FLO-Corp expanded to the web to provide their services globally. Even with the company's rapid growth, FLO-CORP continues to maintain a small business attitude and commitment to its customers. For more information, visit the company website at http://www.flo-corp.com
About Case Farms, LLC
Founded in 1986, Case Farms, LLC is a fully integrated poultry farming and processing group of dedicated individuals that work together to produce consistent, quality poultry products. Its driving purpose is to deliver superior products and service to every customer, every time. Case Farms processes 1.8 million birds per week, has over 2,500 team members, and produces in excess of 600 million pounds of fresh, partially cooked and frozen-for-export poultry products per year. The company has operations or offices in Maryland, Ohio and North Carolina.
For more information on Case Farms, visit http://www.casefarms.com.
###