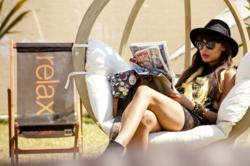 We've developed the app for 2011 as an easy to use tool to help in creating a personal schedule, getting around the site, providing up-to-date news and info
London, UK (PRWEB UK) 1 June 2011
Orange and Glastonbury Festival today announced the launch of the official mobile application, Glastonbury 2011. The app is available to download for free* across leading smartphone platforms such as iPhone, Android and Nokia. Orange has focussed on the functionality that will help festival goers make the most of the event, whilst keeping up to date with all the latest news and information.
Features in the mobile phone app include:

Schedule and programmable 'My Planner' in association with the Guardian Guide
Interactive map with one click 'now and next' listings for stages and 'mood map'
News section featuring content from Glastonbury Festival and The Guardian including direct updates from the festival over the weekend
Ability to share line-ups via Facebook before and during the festival
The 'Schedule' section, in association with the Guardian Guide, enables users to view set times by stages and add acts to 'My Planner' – any acts added will be stored in a personalised weekend schedule where they can be viewed, reminders set, and any clashes will be clearly displayed. Personal schedules can also be posted to Facebook, so that festival goers can let their friends know who they want to watch and recommend their tips for the weekend.
This year's map is the most accurate, useful and interactive yet. Clicking on individual stages will bring up acts playing now and next; clicking on a band currently playing will offer the option to share to Facebook and clicking on a variety of on-site locations will enable you to share how you're feeling and be a part of a real time 'mood map'.
The Glastonbury Festival team will be updating the News section of the app with important announcements or performance time changes as they happen. All this will make the Glastonbury 2011 app from Orange the most up-to-date source of information on site. For those not lucky enough to have tickets to the festival, the news section will be the source of all that's happening on site.
Spencer McHugh, Brand Director at Orange said: "The Glastonbury 2011 app from Orange is bursting with a range of brand new content and features to help Glastonbury-goers get the most out of their festival experience. We've developed the app for 2011 as an easy to use tool to help in creating a personal schedule, getting around the site, providing up-to-date news and info as well as offering the ability to share and communicate in the lead up to and during the best festival in the world!"
Glastonbury festival organiser Emily Eavis added "Orange's Glastonbury 2011 app is a really useful and fun tool to help people make the most of their weekend with us. With the sheer size of the festival, providing up to the minute important news and information like changes to set times is always a difficult task, so we're really pleased that this year we will be able to communicate directly with festival goers via the app, both before and during the festival."
The Glastonbury 2011 app from Orange has been designed to be the most battery efficient version yet, but for those in need of a charge there will be three Orange Chill 'n' Charge tents around the site. Orange's Chill 'n' Charge areas will offer more charging points than ever before as well as space to kick back, relax and unwind as you re-charge your own (as well as your mobile phone's) batteries.
The Glastonbury 2011 app from Orange is free* to download from major app stores including iPhone and Android, links to which can be found at orange.co.uk/glastonbury or by searching for 'Glastonbury 2011' in app stores.
Notes to editors

About Orange UK
Orange is the key brand of the France Telecom Group, one of the world's leading telecommunications operators. With almost 131 million customers, the Orange brand now covers Internet, television and mobile services in the majority of countries where the Group operates.
In the UK, Orange provides high quality GSM coverage to 99% of the UK population, and 3G coverage to more than 93%. Orange and any other Orange product or service names included in this material are trade marks of Orange Brand Services Limited.
On July 1 2010, the company became part of Everything Everywhere, one company that runs two of Britain's most famous brands - Orange UK and T-Mobile UK - with plans to transform the industry by giving customers instant access to everything, everywhere, offering them the best value, best choice and best network coverage in the country. Everything Everywhere Limited is the UK's biggest communications company, with a combined customer base of almost 28 million people and more than 720 retail stores across the country. Everything Everywhere Limited is registered at Hatfield Business Park, Hatfield, Hertfordshire, AL10 9BW under the registered company number 02382161.
For more information please call the Orange Press Office 0870 373 1500, or visit http://www.orange.co.uk/newsroom
# # #