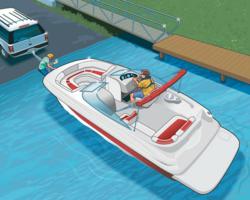 The videos are a great help to better understand want you are trying to learn.
Dallas, TX (PRWEB) June 23, 2011
Summer is here, and New Hampshire waters are busy. New Hampshire has a mandatory boating education law. Everyone 16 years of age and older who operates a motorboat over 25 horsepower on New Hampshire waters must have a boating education certificate. Although it's often called a boating license (or jet ski license), the certificate isn't like a driver's license—it's good for life and never has to be renewed.
At Boat-Ed.com (http://www.Boat-Ed.com/NewHampshire), boaters learn the official boat education content developed for the New Hampshire Department of Safety. Students move quickly through short segments designed for bite-sized reading and quick comprehension. Learning is reinforced with interactive animations. Students feel like they're on the water as they study casting off and docking, rescue techniques, the "Circle of Death," and other boaters safety course topics.
Students study the fast-paced boating safety course (http://www.Boat-Ed.com/NewHampshire) online when it fits their schedule. The course fee includes the boat course, unit quizzes, and an online boating license test.
After passing the online boat license exam, students view and print an Online Exam Results Slip. The next step is calling New Hampshire Boating Education at 1-888-254-2125 to schedule a time for an in-person examination at one of numerous locations. Passing the online boating exam allows students to register for the in-person exam one time at no additional cost.
Some prefer to learn about boating safety as a family, so Boat Ed also offers the official Boat New Hampshire video home-study course (http://www.Boat-Ed.com/NewHampshire/video.html). The Boat New Hampshire DVD includes more than an hour of exciting on-the-water action sequences. A student wrote: "The videos drove the point home or provided a review. This was way better than sitting in a classroom, and I liked the fact that you could do it in your own time!" The video course also includes interviews with Department of Safety officers, who explain state laws in detail and share their experiences patrolling the waters of New Hampshire.
As an added bonus, students who send a copy of their boaters safety course certificate (or boating licence, as it's sometimes called) to their insurance agency might be eligible for a discount on boat or personal watercraft (PWC) insurance.
The recognized leader in boating safety, Boat Ed is the official and exclusive provider of print, video, or online boating safety courses for 49 states, plus the U.S. Coast Guard Auxiliary. For more information about boater's licence or safety certification requirements, please visit Boat-Ed.com (http://www.Boat-Ed.com/).
###