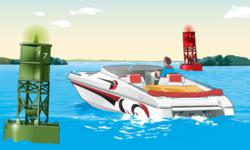 Just aced the safety exam thanks to your interesting and comprehensive course. It was a real pleasure.
Dallas, TX (PRWEB) June 27, 2011
A report released June 15, 2011 by the U.S. Coast Guard (http://www.uscgboating.org/) showed that recreational boating fatalities fell to a record low nationally in 2010. But that trend wasn't reflected on New Jersey's waters, where eight people died in boating accidents last year.
Boat-Ed.com urges everyone to do their part to make New Jersey boating safe and enjoyable. It's easy to become an educated, responsible boater by completing the Boat New Jersey safe boating course.
New Jersey has a mandatory boating education law. All persons who wish to operate a motorized vessel, including a personal watercraft, must possess a boating safety education certificate. Although it's often called a boating license (or jet ski license), the certificate isn't like a driver's license—it's good for life and never has to be renewed.
At Boat-Ed.com (http://www.Boat-Ed.com/NewJersey), boaters learn the official boat education content developed for the New Jersey State Police. Students move quickly through short segments designed for bite-sized reading and quick comprehension. Learning is reinforced with interactive animations, and students feel like they're on the water as they study casting off and docking, rescue techniques, the "Circle of Death," and other boaters safety course topics.
A student wrote: "You have developed and presented a great course for the boating public. What a well-organized and thoughtfully presented series of topics. And, even though I have been involved in the sport for a long time, a number of new and 'long-forgotten' topics have been made fresh once again." Getting an online boaters license has never been so fun!
Students study the fast-paced boating safety course (http://www.Boat-Ed.com/NewJersey) online when it fits their schedule. The course fee includes the boat course and required quizzes—there is no online boating license test. No payment is required until students pass the course.
After passing the online boat license quizzes, students view and print an Online Course Completion Certificate. This Online Course Completion Certificate serves as an admission ticket to the state-required In-Person Boating Exam. Students may register online after passing. After passing the In-Person Exam, students are issued a New Jersey Boating Safety Education Certificate by the New Jersey State Police.
As an added bonus, students who send a copy of their boaters safety course certificate (or boating license, as it's sometimes called) to their insurance agency might be eligible for a discount on boat or personal watercraft (PWC) insurance.
The recognized leader in boating safety, Boat Ed is the official and exclusive provider of print, video, or online boating safety courses for 49 states, plus the U.S. Coast Guard Auxiliary. For more information about boater's licence or safety certification requirements, please visit Boat-Ed.com (http://www.Boat-Ed.com/).
###