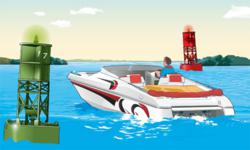 Thank you for producing a really great course. I am very proud of how well my son did, and you made it a pleasure. I am old enough not to require a certificate, but you taught me a few things too.
Dallas, Texas (PRWEB) June 27, 2011
Two boaters drowned in separate Maryland boating accidents on June 24 and 25, 2011 (http://www.cecilwhig.com/local_news/article_180fa886-a040-11e0-ae3f-001cc4c002e0.html). These drownings serve as grim reminders that simple safety precautions can save lives. Drownings can be prevented when boaters wear a personal flotation device, and capsizings can be prevented when boaters understand their vessel's capacity limit.
These safety topics and many more are covered in the Boat Maryland safe boating course. Boat-Ed.com urges those enjoying Maryland waterways to become educated, responsible boaters and practice what they learn.
At Boat-Ed.com (http://www.Boat-Ed.com/Maryland), boaters learn the official boat education content developed for the Maryland Department of Natural Resources. The online boating course lets students get their Maryland Boating Safety Education Certificate to comply with Maryland law. Although it's often called a boating license (or jet ski license), the certificate isn't like a driver's license—it's good for life and never has to be renewed.
The Boat Maryland course offers the highest-quality online experience—less text, plenty of interactive reviews and practice, and on-the-water videos.
Students move quickly through short segments designed for bite-sized reading and quick comprehension. Learning is reinforced with interactive animations, and students feel like they're on the water as they study casting off and docking, rescue techniques, the "Circle of Death," and other boaters safety course topics.
Best of all, Boat Ed includes more than an hour of streaming video with 45 exciting on-the-water action sequences. A student said: "The videos drove the point home or provided a review. This was way better than sitting in a classroom, and I liked the fact that you could do it in your own time!" Getting an online boaters license has never been so fun! A student's father wrote: "I just wanted to say thanks for providing a great online course for safe boating for my 10-year-old son. With this certificate, he will be able to legally operate a little electric motor on his 8' sailboat, so we'll be doing some crabbing this summer with him running his own line."
Students study the fast-paced boating education course (http://www.Boat-Ed.com/Maryland) online when it fits their schedule—setting up a free account and logging in or out as they wish. The online boating test fee includes the boat course, unit quizzes, and two attempts at the online boating license test. No payment is required until students pass the final boaters exam.
After passing the Maryland boating exam, students immediately print out a temporary certificate and get on the water right away. They receive their permanent Boating Safety Education Certificate (or boating licence, as it's sometimes called) by mail.
The recognized leader in boating safety, Boat Ed is the official and exclusive provider of print, video, or online boating safety courses for 49 states, plus the U.S. Coast Guard Auxiliary. For more information about boater's licence or safety certification requirements, please visit Boat-Ed.com (http://www.Boat-Ed.com/).
###