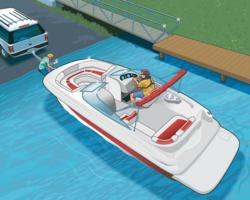 The visual aids were very useful when trying to understand concepts.
Dallas, TX (PRWEB) June 23, 2011
The Wisconsin Department of Natural Resources website is giving boaters and anglers an easy way to find new waters to try out with its "Find a Lake" feature. Users can search for lakes by region or lake name, and they can get maps, learn about boat access, local boating ordinances, and other facilities.
But before finding the perfect Wisconsin lake, it's a great time to learn how to make Wisconsin boating safe and enjoyable. Become an educated, responsible boater by completing the Boat Wisconsin safe boating course.
Boat Wisconsin (http://www.Boat-Ed.com/Wisconsin) has been the official online boat education course of the Wisconsin Department of Natural Resources since 2006. With Boat Wisconsin, students earn their Boater Education Certificate to comply with Wisconsin law. Although it's often called a boating license (or jet ski license), the certificate isn't like a driver's license—it's good for life, and never has to be renewed.
Students move quickly through short segments designed for bite-sized reading and quick comprehension. Learning is reinforced with interactive animations, and students feel like they're on the water as they study casting off and docking, rescue techniques, the "Circle of Death," and other boaters safety course topics.
A student wrote: "The visual aids were very useful when trying to understand concepts." Getting an online boaters license has never been so fun!
Students study the fast-paced boating safety course (http://www.Boat-Ed.com/Wisconsin) online when it fits their schedule—setting up a free account and logging in or out as they wish. The online boating exam fee includes the boat course, unit quizzes, and unlimited attempts at the online boating license test. No payment is required until students pass the final boaters exam.
After passing the Wisconsin boating exam, students immediately print out a temporary certificate to serve as their operating permit until receiving their permanent certificate from the Wisconsin Department of Natural Resources by mail.
The recognized leader in boating safety, Boat Ed is the official and exclusive provider of print, video, or online boating safety courses for 49 states, plus the U.S. Coast Guard Auxiliary. For more information about boater's licence or safety certification requirements, please visit Boat-Ed.com (http://www.Boat-Ed.com/).
###