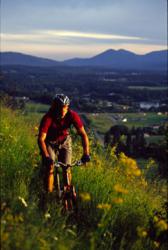 Sandpoint's Summer Celebration starts on June 25 offering day-long free chairlift rides, live music, activities, and of course, open bike trails.
Sandpoint, Idaho (PRWEB) June 01, 2011
Those waiting for the higher elevation bike trails to open up, the wait is almost over. Sandpoint, Idaho's own Schweitzer Mountain Summer Celebration starts on June 25 offering day-long free chairlift rides, live music, activities, and of course, open bike trails (weather permitting).
The Idaho Panhandle is wedged in between Washington and Montana pointing up to the British Columbia, Canadian border. This little slice of heaven is lush with lakes and mountains, and broad valley floors. Visitors won't find potato fields here.
Right in the center of the Idaho Panhandle is Sandpoint; a town of about 7,500 is situated on the northern shore of Lake Pend Oreille and nestled against the foothills of the Selkirk Mountains. This geography translates not only to beautiful scenery, but also to fantastic bicycling for the road cyclist, the mountain bicyclist, the family and the adventurer.
Sandpoint is also home to the epic CHaFE 150. On June 4, the 150-mile fundraiser road ride circles the Cabinet Mountains into Montana and back around. The ride raises money for early childhood education, and is capped off at 300 riders.
Road cycling
Paved trails head out of Sandpoint south along the Long Bridge out to Sagle for a 12-mile round trip, very family friendly ride that begins with a ride across the two-mile long pedestrian and bike Long Bridge.
For an easy loop, the Colburn-Culver Valley Road offers a 30-plus or minus-mile loop from Sandpoint out on rolling valley floor through beautiful farm and horse country with views of the Selkirk and Cabinet Mountains.
If climbing is the name of the game, the Schweitzer Mountain Road climbs and switchbacks up to the Resort with a 2500-foot climb over 11 miles. Schweitzer Mountain Resort sits at the top with options for lunch, ice cream, and a scenic chairlift ride to the summit. The reward is a really fun ride back down the winding road to the valley floor.
Mountain biking
Sandpoint is known for its outstanding mountain biking from easy to expert. The surrounding National Forest offers a myriad of trail options. From Bottle Bay Road, one can bike the very scenic Gold Hill Trail network with its many options for switchbacking up the mountain and numerous opportunities for breaks overlooking Lake Pend Oreille. The ride starts with a 3.7 mile steady single track climb made more interesting by 20+ switchbacks of varying difficulty and numerous other roots and rocky areas. A descent on the same single track you climbed along with some awesome vistas of Sandpoint and Lake Pend Oreille, and this ride is very much a must-do for those adventurous enough to handle it.
From Sagle Road, one can bike the Mineral Point Trail beyond Garfield Bay. Mineral Point is a moderate ride with some fairly technical sections. The beautiful single track trail rolls up and down through varied terrain of Ponderosa pine and cedar forest, offering many nice views of the lake. This ride is usually dry and ride-able early and late season due to its relatively low elevation.
Schweitzer Mountain has hosted the NORBA National Mountain Bike Championships, bringing the top pros in the world to the area and almost 2000 competitors in all. A full network of trails awaits riders at Schweitzer with lift served downhill riding and 30 miles of cross-country single track. Options range from willing beginner to advanced and the best part? The resort village is a great base camp for lunch, dinner and a very nice place to rest your head at night.
New in 2009, Schweitzer Mountain introduced the Bear Grass Trail, a beautiful downhill trail suitable for adventurous beginners and up. The trail meanders and switchbacks down the basin into the Resort Village. Many more difficult obstacles have an easier way around them.
Where to Stay
Sleep's Cabins: Historic log and bungalow cabins on the lake. Located on South end of Long Bridge. Each cabin is uniquely decorated with family heirlooms and collectibles. Brent and Tawnie Sleep are the third generation to live on the premises and welcome guests to this idyllic lakeshore setting. Beach and boating access in summer and winter ski packages available. http://www.sleepscabins.com.
White Pine Lodge: Schweitzer's premier ski-in/ski-out lodging accommodations. Fully furnished condominiums with full kitchens. Built in the traditional mountain-lodge post and beam style, the lodge is accented in native Idaho colors and fine contemporary mountain furnishings. The village at Schweitzer Mountain includes a fine dining restaurant, The Chimney Rock. http://www.schweitzer.com.
Dover Bay Waterfront Resort & Bungalows: A new residential waterfront resort community on the shores of Lake Pend Oreille, just 3.5 miles west of downtown Sandpoint and short drive to Schweitzer Mountain Resort. The Marina Village at the heart of the community includes marina, beach bungalow vacation rentals, cafe, and market. http://www.doverbayidaho.com.
Sandpoint is located in the middle of the northern panhandle of Idaho, 60 miles south of the Canadian border. The city is accessed from the south by the scenic, 2-mile long Long Bridge, which crosses the lake at the mouth of the Pend Oreille River and serviced by Spokane International Airport.
For more options for lodging, dining and playing, visit http://www.visitsandpoint.com.
Bicycling information is available at the Sandpoint Chamber of Commerce or at http://www.pendoreillepedalers.com.
###