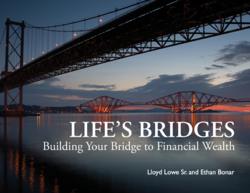 Like any journey, the journey to your financial future begins with a single step.
Dallas, TX (PRWEB) June 14, 2011
The definition of a bridge is a structure that offers passage across an obstacle. It is a link or means of approach to connecting and coming together.
New book "Life's Bridges: Building Your Bridge To Financial Wealth" (Brown Books Publishing Group), by Lloyd Lowe Sr., founder of LD Lowe Sr. Wealth Advisory in Dallas, TX and senior partner, Ethan Bonar, Chief Compliance Officer Ethan Bonar, is for people afraid of taking that first step towards establishing financial security for the future.
Authors Lowe and Bonar provide the blueprint to help readers get started then guide them through a series of easy-to-understand steps that will help them reach your goals.
Concise, informative and well-written, Lowe and Bonar bring common sense and practical advice to a complex subject. In straightforward terms, they tell readers what they should be looking for to strengthen their financial planning.
They advise readers to ask themselves a series of questions: Where do you want your bridge to take you? Who are you building the bridge for? When will you need it? How will you go about building it? The responses to these questions are the foundation for building an action plan to what will lead to short-term results and long-term financial wealth without compromise
The bridges featured throughout the book symbolize the various pathways we take in life to building for the future. In "Life's Bridges", they are a metaphoric representation of the connection or relationship between a tenured financial advisor and an investor.
"Bridge building takes time, patience, and planning. This book will show you how to do it and why you should bother," says sports broadcaster, Pat Summerall.
"Life's Bridges" provides readers with the tools to map out a course of action to build a personal bridge for the lifestyle they seek. Says Lowe, "A well-constructed 'bridge,' coupled with an astute action plan is necessary in order to successfully reach financial goals." It's never too late to get started, so what are you waiting for!
LD Lowe Sr. Wealth Advisory with offices in Dallas, Frisco, and Arlington, Texas has been helping people bridge their financial future for over 20 years.
*100% of the proceeds from "Life's Bridges" will be donated to the Vogel Alcove in Dallas, TX. Their mission is to provide the youngest children of homeless families with the foundation for success. It is their vision that every child has a home, a self-sufficient family, and a pathway to success in school.
Books are available online and bookstores everywhere.
To learn more please visit: http://www.LDLowePlan.com or http://www.VogelAlcove.org
# # #