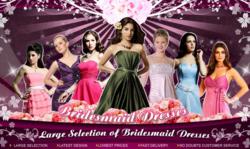 TheRoseDress has large selections of beautiful bridesmaid dresses for bridesmaid to love!
(PRWEB) June 03, 2011
TheRoseDress.com is one of the best online shopping sites for formal dresses with several brands to choose from. And is one of the fast growing online retailers for bridesmaid dresses. For over seven years in the business, TheRoseDress never fail to celebrate female beauty thru vibrant colors, eye-catching designs and styles at low price guarantee. Moreover, TheRoseDress have systems that allow customers to view the entire order process and easily track their packages with a click of a button. The well-organized ordering, processing and delivering system, help customers to take advantage of great buys for high-quality dresses which can be delivered right at their doorsteps on time and in very good condition. Patrons and new users of TheRose can now enjoy wide selection of bridesmaid dresses as new vendors are added in the family, these are LE and CO. In addition, free shipping for order that reaches $150 is still ongoing for our valued customers to take advantage of.
Bridesmaids serve to complement the wedding paraphernalia and the bride itself. Choosing the right dress for the bridesmaids will not only enliven weddings, but also signify the bride's sense of taste when it comes to fashion. TheRose has wide collections of these dresses that are suitable to any body type and personality. Wide selections from high-end designer dresses, affordable bridesmaid dresses, plus size bridesmaid dresses and bridesmaid dresses that cost only $100 and below. Free shipping applies if total amount of order reaches $150.
TheRose's, "Designer Bridesmaid Dresses" category seems to be the fad for this year. A lot of customers are dying to have some short dresses and long gowns coming from these best sellers: Alyce and Eden. Dresses that have million-dollar look but at reasonable cost that will not be heavy to the budget. These elegant combined with sophistication Designer Bridesmaid Dresses strikes a perfect note to the ladies—the bride and the bridesmaids because of the system that enables to check if a particular item is available at designer's end. It was therefore, not just the design and the quality made dresses, but also the accessibility of these designers that garners them a great score from the customers.
There are some customers do not find the Designer Bridesmaid Dresses affordable. Thus, TheRose create a category that shows all affordable Bridesmaid dresses in "Affordable Bridesmaid Dresses" page. Large selection coming from best-sellers as Poly USA, May Queen, Chicas, Cinderella Divine, Aspeed, Eureka, Nox Nariana, Pelicana, Night Scene and the new vendors: LE and CO. One may expect to see dresses having price ranges from $50 to $150 only. Plus, catalog database search was placed to narrow the selections according to personal specification.
Bigger built ladies use to have difficulty searching for a dress that fits bigger sizes. Therefore, TheRose did not neglect the need of women that belongs to these sizes. Like other fashion industry, TheRose believe plus size women have something to show off, too. Dresses bearing a design and cut suitable only for such size. Eden joins hand with TheRose as designers like Cinderella Divine, Poly USA, Nox Nariana, May Queen, Aspeed, Eureka and Jackie Won presents dresses with beautiful designs, color and sizes for $50 to $200 only.
Don't fret over low budget! TheRoseDress.com bridesmaid category offers wide selections from top sellers as Poly USA, Cinderella Divine, May, Queen, Aspeed, Eureka, Nox Nariana; and the latest addition in the family: LE and CO have showcases some creations to grace the budget wise ladies. Bridesmaid dresses in modest style, charming bridesmaid dresses, elegant dresses, glamorous bridesmaid dresses, modern and classic style are the types available in this page.
If TheRose is able to show bridesmaid dresses for adults, "Bridesmaid Dresses for juniors" are available at TheRose, too. Junior bridesmaids are girls too old to be a flower girl yet too young to become a full pledge bridesmaid. They too have important role to the bride and the wedding, so careful consideration is a must. Take note flower girls dresses or adult bridesmaid dresses are not suitable for the junior bridesmaid. There are dresses intended for the assigned junior bridesmaid. TheRose knows that! For that reason, TheRose collected varieties of options for the young lady from the world renowed for bridal and entourage gown manufacturers – Eden Bridals and Tip Tops. Make a pick amongst the exceptional styles/design, colors, and sizes to complement the young ladies skin tone and measurement at guaranteed low prices.
Many customers of TheRose, old and new, were thankful that TheRose has category such as "In-stock Bridesmaid Inventory". It is where they are able to find lovely dresses at an affordable price for immediate shipping. This is quite perfect for brides that are on time crunch. In this page, customers may see long and short dresses; dresses with straps or no straps, high-low style bridesmaid dresses, bridesmaid dresses with shawl, and bridesmaid dresses with sash. Just think of the style and see what are in-store. Use the in-store inventory search system to narrow down the selection; this makes browsing a lot easier and faster. But to see all the dresses in this page just scroll up and down, either way, and find the pages to go next.
In-stock Bridesmaid Dresses on Sale
No other website can give the best deal ever as TheRose. We have a category to aide the brides who are in budget issue and in limited amount of time. The In-stock Bridesmaid Dresses on Sale" features top caliber design that will be a hit for the lucky bridesmaid. The design, color and sizes shown are what we have available for immediate shipping. There are plenty in-store to choose from that will cover all the bridesmaid dresses need of the bride-to-be. The dresses can even be arranged from lowest to highest price or from highest to lowest price. There are pages to click on to see the other dresses posted in this category, just scroll up and down and see the number of pages arrange in easy to find manner. The price range of the dresses are from $20 to $50. Truly, the best deal ever and only TheRose can do that!
TheRoseDress.com Office / Warehouse is located in San Jose, California. With over 7,500 square feet in size, there are over 30000 in-store dresses available for immediate delivery/shipping which makes it possible for customers to receive orders overnight. Catalog database shows all items that can be ordered, and In-Stock Inventory database shows all items at the warehouse that can be shipped out immediately. To qualify for wholesale, customers are required to purchase twenty dresses (non-sale item) or more. For any questions, visit our website TheRoseDress.Com and email to askus(at)therosedress(dot)com or orderdesk(at)therosedress(dot)com. Or call at 408-404-3399. Or use live chat: http://messenger.providesupport.com/messenger/therosedress.html
# # #