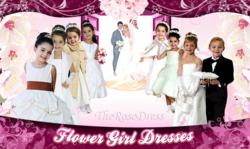 Adorable Collections of Flower Girl Dresses for your Charming Little Girl
(PRWEB) June 03, 2011
TheRoseDress.com is expanding its flower girl dresses by adding new lines from Cinderella Couture Flower Girl Dresses, My Best Kids and Kiki Kids. Patrons and new users of TheRose will further enjoy these gorgeous dresses because its free-shipping promotion and ten percent off on order is still ongoing. To avail of the free shipping, one must be a resident of the US and its order must reach $50. And to get the 10% off on order, amount of order must reach $120 and this is applicable to customers around the world. Take advantage of the promotion while it last and have your orders delivered right at your door step fast and at low price guaranteed.
Flower girls are girls under ten years old that carries flower in a procession. Most typically, flower girls are associated in weddings, although they can appear in a variety of procession or events, and they are sometimes seen in parades to honor the beauty queen or other community celebrities. Flower girls symbolize childhood and youth, it is so, TheRose presented all the dresses having youthful appeal from top designers of formal kids clothing like Crayon Kids, Sweet Kids, Tip Top, Angel Club and the three other new addition in the family of TheRose: My Best Kids, Cinderella Kids and Kiki Kids. Free shipping and ten percent discount on order is still on going.
View Flower Girl's Dresses by Type
To speed up search of flower girl dresses according to ones specification, TheRose has "by dress type" category. It presents the dress type such as full length and tea length flower girl dresses, dresses with sash, dresses with rose petal accents, dresses having embroidery designs. infant/toddler flower girl dresses and dresses with bead embellishments. Patrons of TheRose may expect to see charming dresses in variety of designs, colors, and sizes at an affordable cost from top distributors of formal kids wear.
Flower Girl Dresses by Available Color
TheRose further facilitate easy searching thru 'by available color" searching. It enables to view the dresses in the flower girl category in assortments of colors it is offered. Moms no longer have to go thru page by page to see the color they prefer for their daughter's dress.
In-stock Inventory Database for Flower Girl Dresses
Many of TheRoseDress customers find the "In-stock Inventory Database" for flower girl dresses helpful. Moreover, they are assured that the item ordered is guaranteed available and may arrive within couple of days only. Further reason why the in stock page is so popular to visitiors of TheRose is because of the feature that speeds up the process in searching for the perfect flower girl dress through the use of "In-store Inventory Search Database". Search can be narrowed down by entering the color, size and price preferred.
In-stock Flower Girl Dresses On Sale
Some may think on sale dresses are of cheap quality but at TheRose on sale, are guaranteed top quality made dresses. The materials used were satin and organza which are comfortable to wear and would create adorable appeal. Dresses that are on-sale have price ranges from $20 to $30 only. And it is all for immediate shipping. It can be delivered anywhere around the globe in single order or bulk.
TheRoseDress.com Office / Warehouse is located in San Jose, California. With over 7,500 square feet in size, there are over 30000 in-store dresses available for immediate delivery/shipping which makes it possible for customers to receive orders overnight. Catalog database shows all items that can be ordered, and In-Stock Inventory database shows all items at the warehouse that can be shipped out immediately. To qualify for wholesale, customers are required to purchase twenty dresses (non-sale item) or more. For any questions, visit our website TheRoseDress.Com and email to askus(at)therosedress(dot)com or orderdesk(at)therosedress(dot)com. Or call at 1-408-404-3399. Or use live chat: http://messenger.providesupport.com/messenger/therosedress.html
# # #