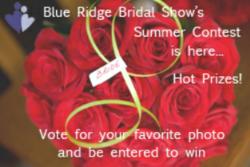 Romance is in the Air in the Blue Ridge
Winchester, VA (PRWEB) June 22, 2011
Blue Ridge Bridal Shows (BRBS) is on a mission to brand "Blue Ridge Bride". Women choosing to get married in the northern Blue Ridge Shenandoah Valley will be delighted to see their weddings highlighted both on the BRBS web site and on our face book page. BRBS promotes this region as an international wedding destination. What better way than to use Face Book's photo albums to market the future Blue Ridge Bride and Grooms. Anyone can participate and win!
Last year's contest was a huge success with over 600 votes. Partnering with leading Wedding Retailers which include Joseph A. Banks, Le Creuset, Alpha Voyages, George Washington Hotel, Massanutten Resort, Slumber Parties, Nibblins Edibles and Gifts. BRBS is hosting a face book contest that's all about wedding images focusing on the beautiful Blue Ridge area. This contest is open to Blue Ridge Brides, Grooms, Wedding Professionals, and Friends.
With the growth and popularity of social media, BRBS is once again stepping out of the box by taking advantage of social media marketing. "It is all about reaching your targeted audience," says Nancy Craun, owner and producer of the BRBS shows. "We know this is how people today communicate so we are just joining in on the fun! Each week has a different topic. These include Engagement Photographs, Most Romantic Venues, The Unexpected, Just the Guys, All in the Details, Cake Moments, Best Kiss, and Breath-taking Exits. "Two of my favorites last year were definitely "Just for the Guys" and "Best Kiss". This year I am excited about "All in the Details" - From bouquets, favors, center pieces, unique bridal party gifts, invitations, shoes and accessories, the personalized details that make this wedding all "yours".
Here is how it works:
Photographs relating to the topics listed below should be emailed to brb@blueridgebridalshow.com.
Images will be posted each Wednesday during the contest period with the past week's image winners announced. Weekly winners become finalists for the Grand Prize. Image submissions can come from brides, grooms, friends, photographers and other wedding professionals. They can be taken by professionals or amateurs --- we are simply looking for great pictures capturing the fun and beauty of a Blue Ridge Wedding. Votes are cast thru by commenting on face book with Likes getting one(1) vote and comments getting two (2) votes. Bonus points can be earned by commenting on any of the weekly blogs or picking the image of your choice on our web site.
Each week two images win.
Image #1 – The Most Popular - Winning Image voted on by the Fans
Winner is randomly selected from the winning image voters.The winner will receive prizes from our sponsors and then qualifies as a finalist for the Grand Prize Giveaway Package valued over $500..
Image #2 – The Best Artistic Photography - Winning Image voted on by a panel of Blue Ridge Wedding Professionals
Winner is the photographer who took the picture. This photographer will receive a prize and also become a finalist for the Grand Prize drawing of a FREE booth at the Blue Ridge Fall Bridal Show at the George Washington Show. If the image is not taken by a wedding professional, then the winner will qualify for the grand prize of a one night stay in the Blue Ridge. .
The Blue Ridge Shenandoah Valley is a great wedding destination both for our locals and our visitors to this region. BRBS's goal is to put the northern Shenandoah Valley on the national and international radar of Brides and Grooms wanting a fun – beautiful – romantic destination for their wedding. For the DC – Northern Virginia and Maryland Brides looking for a beautiful wedding destination without adding air fare to their budget, the Blue Ridge Shenandoah Valley is just one hour away. Take a look at these Blue Ridge Bride Weddings!
# # #