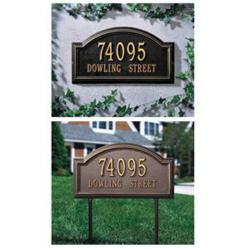 Whitehall Products offers a great collection of outdoor decorations for the home.
Chicago, IL (PRWEB) June 08, 2011
FurnitureForPatio.com expands its product selection by adding outdoor decorations and home accents by Whitehall products. Whitehall products are manufactured in the USA from recycled aluminum. Many of Whitehall products can be custom ordered with a variety of color and personalization options. Whitehall has an extensive collection products that includes mailboxes, address plaques, garden decorations, weathervanes, and more.
FurnitureForPatio.com is proud to offer the great collection of Whitehall Products at is online patio furniture store. With the addition of the the new products, Furniture For Patio provides customers with quality home decorations and outdoor decor that is environmentally friendly and made in the USA! Online shoppers will have the ability to customer order Whitehall Products by selecting from a variety of frame finishes and custom personalization options on certain products. For over 65 years Whitehall has been developing, designing, and manufacturing from rust-free recycled aluminum from Western Michigan.
At FurnitureForPatio.com you can choose from the extensive collection of Whitehall address plaques. Each address plaque can be customized with a variety of personalization options for every customer. Customers can choose from a variety of powder coated finishes that are engineered for outdoor use. The address plaques are available in standard and estate sizes. The estate sized address plaques are a great solution for larger homes and increased visibility across expansive yards. Most of the address plaques can be wall or lawn mounted and provide a great accessory to any home. One of the most popular metal address plaques at FurnitureForPatio.com is the Providence Arch address plaque. All of the Whitehall Products address plaques are handcrafted from from recycled aluminum.
Customers can also shop from the complete collection of Whitehall residential mailboxes. Whitehall mailboxes are manufactured from die cast rust-free aluminum and are 20% larger than most premium mailboxes. Adding a decorative mailbox can improve the curb appeal of your home and make a great first impression. At FurnitureForPatio.com customers can custom order their Whitehall mailbox by choosing from a variety of different styles, colors, and more.
Furniture For Patio is also proud to feature a great collection of home and garden accessories that are manufactured by Whitehall. Some popular home accessories include the personalized aluminum door mats. Most of the aluminum door mats can be personalized with up to fifteen characters of your choice. Some other popular outdoor accessories include outdoor clocks and thermometers, hose holders, weathervanes, tea lanters, and birdfeeders.
Furniture for patio features a great collection of patio furniture and outdoor decorations from top patio manufacturers. Furniture for Patio is a online patio furniture store featuring fine furniture and outdoor accessories. The store offers quality furniture at affordable prices in a safe and secure shopping environment.
Furniture for Patio provides the opportunity for consumers to quickly browse from a wide range of quality patio furniture and outdoor decorations online. Customers can browse from a wide variety of outdoor furniture, including modern, contemporary, and traditional styles from a growing selection of top brands.
###