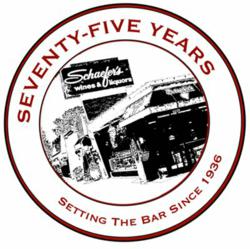 Schaefer's Wine's-- Before the Rest and Still the Best!
Skokie, IL (PRWEB) June 06, 2011
Schaefer's Wines, Foods and Spirits formally celebrates its 75th anniversary with a tent party and summer wine sale kickoff on Saturday, June 18, 2011.
This event will showcase an extensive tasting of wines as well as Midwest craft beers and artisan cheeses. Over 75 products will be dramatically reduced in price.
Also enjoy free hot dogs, root beer and the introduction of Schaefer's Raspberry Cabernet Sorbet made by Homer's Ice Cream. There will be music, a beer truck and fun 75th anniversary giveaways.
On January 1, 1936, George Schaefer opened the doors to his tavern named The Boundary. Schaefer's built a national reputation as a wine retailing pioneer while never losing its local roots on Chicago's North Shore. Setting the bar even higher, Schaefer's recently renovated and updated its operation in order to provide an exemplary customer experience. In addition to its wine offerings, Schaefer's maintains a full service deli and deep selection of liquors and beer. The store's highly tenured staff of wine, beverage and "foodie" professionals make Schaefer's the go-to place.
Schaefer's has been featured in a variety of publications including Wine Spectator, Forbes, Beverage Dynamics & Market Watch. It was named "Best Wine Shop in Chicago" by the Chicago Tribune and received its "Good Eating" award.
The Schaefer's 75th anniversary event runs from 11-5pm on Saturday, June 18th at 9965 Gross Point Road in Skokie, Illinois.
# # #