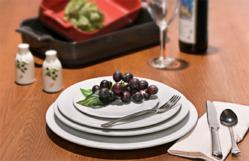 We now focus on a total package approach with the addition of cookware, dinnerware, flatware, cutlery and stemware.
Cheyenne, WY (PRWEB) June 01, 2011
Sierra Trading Post, a brick and click e-tailer known for great deals, now offers shoppers more options to outfit their kitchen, dining, patio and more with brand-name furnishings at 35-70% savings every day. In addition, Sierra Trading Post has put more focus into stylizing its photography to provide "create the look" ideas for customers.
Prior to 2007, Sierra Trading Post carried a handful of bed and bath items on its website and in catalogs. In the fall of 2007, the Wyoming-based company ramped up its home and gift offering in response to increased demand for quality furnishings at a discounted price. It also premiered a full-color Home & Gift catalog title. Four years later, demand continues to rise, and Sierra Trading Post is meeting that demand by partnering with new furnishings brands and rounding out the offering in existing home categories.
"It's exciting to see our home and gift selection expanding. In the kitchen category, we don't just carry linens and a random gadget here and there; we now focus on a total package approach with the addition of cookware, dinnerware, flatware, cutlery and stemware. We are also trying to add small appliances to the mix," says Heather Jahnke, Buyer for Sierra Trading Post. "So whether a shopper is gearing up for their next camping trip or outfitting their home for a dinner party or a visit from the in-laws, they're going to find what they need here from the best brands in the business. That's what makes Sierra Trading Post special."
About Home & Gift: Sierra Trading Post produces and distributes five Home & Gift catalogs annually. Each title features top-brand product as well as holiday and seasonally focused choices. Shoppers of the Home & Gift title enjoy exceptional values in luxury linens, premium cutlery and kitchen accessories, tasteful indoor and outdoor home décor, and gift ideas galore. Sign up to receive the Home & Gift catalog or view the latest eCatalog.
About Sierra Trading Post: Headquartered in Cheyenne, Wyo., Sierra Trading Post is a multichannel retailer known nationwide for offering "Great Deals. Great Brands." Sierra Trading Post purchases brand name overstocks, closeouts and 2nds, and offers customers 35-70% savings every day. Founded in 1986, Sierra Trading Post is celebrating its 25th anniversary. Throughout its history, the family-owned company has saved customers more than $3 billion on outdoor gear, shoes, men's clothing, women's clothing, accessories and home furnishings. A top 100 Internet retailer in sales per Internet Retailer Magazine, Sierra Trading Post operates four outlet stores in Boise, Idaho; Reno, Nev.; Cheyenne and Cody, Wyo.; with customer service call centers in Cheyenne and Cody.
###