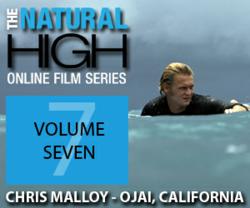 The kids that continued to do that, you look at them at 20, at 25, at 30, and that's when you see the big impact.
San Diego, CA (PRWEB) June 01, 2011
Ambassador for Patagonia, Chris Malloy is making a mark with his life, and not just with big waves, athletic feats, and successful film projects. Amongst all these great accomplishments Malloy has added yet another attribute to his resume; an interview on NATURALHIGH.TV, an online film series that uses celebrities, bands, and professional athletes to inspire teens to choose a natural high and reject drugs.
Malloy is the perfect Natural High advocate, harnessing a wide variety of interests and sincerely caring about their effect on his life in the long run. Drugs simply don't fit in that category. His natural highs include surfing, fishing, raising beef and growing greens on his 15,000-acre ranch, reading and researching whatever piques his interest, and spending time with friends and family.
Describing his high school years, Malloy says having a focus is what helped him stay on track. "I noticed that the kids that were getting involved with drugs they didn't seem super focused on anything other then themselves and trying to have a good time. For me having a good time was surfing the best I possibly could," says Malloy. Moving into his career, drug free Malloy saw the same phenomena happen with professional surfers. "I noticed the guys that started using drugs, as time went on those guys started to drag, they started to loose their focus and their longevity just wasn't there," Malloy says. "The kids that continued to do that, you look at them at 20, at 25, at 30, and that's when you see the big impact."
Staying clean has provided Chris with opportunities for work that many would covet. Ambassador for Patagonia, Chris is also a field tester; traveling the world and working closely with the design department to test, refine and validate the products in the harshest and most remote locations on the planet. Malloy also teamed up with drug free Natural High 2 Star, Taylor Knox, and others to found the traction/surf accessory company On a Mission. He is also part of Woodshed Films, a co-op of talented artists, directors and producers who seek to entertain audiences while subtly introducing them to environmental and socially relevant issues. Malloy directed their most recent movie, 180° SOUTH, which is an old school meets new school mix highlighting the story of the unique environmentalist, Yvon Chouinard.
NATURALHIGH.TV is produced by Natural High® a national drug abuse prevention organization aimed at helping young people find their natural high and reject drugs. The organization uses celebrity advocates, drug free teens, and the latest technological advancements to speak a powerful message and promising alternative.
Check out Malloy's interview on http://www.naturalhigh.tv and prepare to be inspired!
###