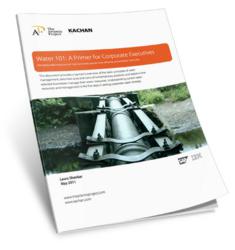 When it comes to resource management, water has taken a back seat to energy in most companies' strategic planning.
San Francisco, CA (PRWEB) June 17, 2011
Businesses stand to create substantial value by optimizing their water use. But how do busy corporate executives learn the basics of the water industry, and how their companies interface with it?
A new report called Water 101: A Primer For Corporate Executives from water consulting firm The Artemis Project and cleantech research and consulting firm Kachan & Co. offers a business layperson's overview of the basic principles of water management, describes pros and cons of contemporary practices and how selected businesses manage their water resources.
"Understanding current water resources and management is the first step in setting corporate water strategy," said Laura Shenkar, Founder and Principal of The Artemis Project. "By evaluating the current use of water and water sources, more efficient practices, and in some cases creative re-invention of operating processes, companies can slash water and wastewater management costs while creating more sustainable operations."
Efficient, sustainable water management practices will become an increasingly critical aspect of doing business for every company, from retail to consumer goods to heavy industry and beyond, according to the report.
"Like energy, water is a critical resource fueling global business," said Jim Davis, Executive Director of Sustainability, Energy and Environment at SAP. "Information technology and enterprise software solutions play a central role in helping businesses gain visibility and insight into how they use water and evaluate the financial returns of investing in resource efficiency projects across their operations."
The new report helps executives better understand the benefits and challenges of today's water management practices, provides an overview of current water treatment systems and suggests opportunities for businesses to create business value from these issues.
"When it comes to resource management, water has taken a back seat to energy in most companies' strategic planning. But you can trust that the 6 million gallons of water Starbucks is now saving daily, and the 80-percent water consumption reduction that Wal-Mart has achieved, are adding dramatically to these companies' bottom lines," said Dallas Kachan, Managing Partner, Kachan & Co.
Water 101: A Primer For Corporate Executives was produced in partnership with enterprise software company SAP. It is available from http://www.kachan.com/water-primer-corporate-executive-summary-company.
About The Artemis Project
The Artemis Project™ is a boutique consulting practice dedicated to helping companies thrive in a world of increasing water scarcity. It works with global corporations to achieve a sustainable competitive advantage through operational excellence in water management. It assists advanced water technology companies in maximizing the value they bring to their customers. It also hosts the annual Artemis Top 50 Water Tech Company Listing. For more information, visit http://www.theartemisproject.com.
About Kachan & Co.
Kachan & Co. is a cleantech research and advisory firm with offices in San Francisco, Toronto and Vancouver. The company publishes research on clean technology companies and trends, offers consulting services to large corporations and cleantech vendors, and connects cleantech companies with investors through its Hello Cleantech™ and Northern Cleantech Showcase™ programs. Kachan staff has been covering, publishing about and helping propel clean technology since 2006. For more information, visit http://www.kachan.com.
About SAP
As market leader in enterprise application software, SAP helps companies of all sizes and industries run better. From back office to boardroom, warehouse to storefront, desktop to mobile device - SAP empowers people and organizations to work together more efficiently and use business insight more effectively to stay ahead of the competition. SAP applications and services enable more than 170,000 customers (includes customers from the acquisition of Sybase) to operate profitably, adapt continuously, and grow sustainably. For more information, visit http://www.sapsustainabilityreport.com.
For more information, a copy of the report or to arrange an interview, contact:
Lucia Siplakova, Kachan & Co.
+1-415-390-2080 x6 office
+1-778-855-1674 mobile
lucia(at)kachan(dot)com
###