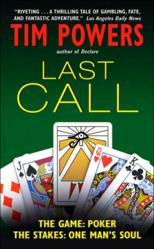 This project is a perfect fit for a studio or television network looking to develop a film or series with amazing visuals, ties to real historical events and a strong roster of characters in the throes of a battle between good and evil.
Los Angeles, CA (PRWEB) June 08, 2011
Arcana Pictures has optioned the exclusive worldwide television and film rights to author Tim Powers' World Fantasy Award-winning novel "Last Call."  Powers' star has been shining brightly ever since Disney selected one of his other works, "On Stranger Tides," as both the title and inspiration for the current installment of the box office powerhouse "Pirates of the Caribbean."  
The executive producers of "Last Call" are gambling that Las Vegas is the perfect place to bring Powers' next book to life. "Last Call" is set in the gritty paranormal underbelly of Sin City, weaving tales of ancient magic with violence-inducing tarot card poker games called "Assumption." In this game, gamblers unknowingly find themselves wagering for their bodies, souls and immortality.
Powers' fantasy novels are known for their meticulous adherence to well-documented historical facts and timelines. In "Last Call" and "On Stranger Tides," Powers' style is almost conspiratorial in nature, in that he takes real historical characters, events, timelines and folklore to build scenarios that are incapable of being fully debunked. For example, in "Last Call," Powers uses the legend of the infamous Bugsy Siegel to create a riveting alternative history for how Las Vegas was truly born, complete with ghosts and mobsters.
In an exclusive interview conducted by Arcana, Powers explains, "Gamblers who get involved in the specialized games had better know what they are playing with because they are in danger of losing their souls." In "Last Call" casual visitors to Las Vegas are completely unaware of the malevolent supernatural forces that surround them. In fact, rival groups of elite gamblers are constantly engaged in an underworld, mafia-like turf war, desperately trying to gain ultimate control over those forces.
Arcana is headed by London-based Faust Pierfederici and Los Angeles-based Michael Yanovich.  The two partners first approached Tim Powers about "Last Call" well before Disney tapped the author for "On Stranger Tides." Yanovich says, "Last Call involves a storyline that is begging for further exploration." Powers will work closely with the producers to adapt the characters and storyline to the up-to-the-minute reality of Las Vegas. Pierfederici comments, "We are extremely pleased by the vote of confidence Tim has placed in our team and the vision we have for one of his most prized novels."
Pierfederici and Yanovich hand-picked former EP/Showrunner of A&E's "Criss Angel Mindfreak" Michael A. Blum and New York-based entertainment attorney/producer Stephen J. Savva as Co-Executive Producers on the project. Blum was tapped for his extensive experience in the field of magic and producing projects in Las Vegas. Blum states, "We are thrilled to be working with an author of Tim's skill set and imagination."
Stephen J. Savva represented Arcana on this deal and is working closely with Arcana to attach talent, writers and branded sponsors. Savva's representative clients include Academy Award winning producer/actor Fisher Stevens, Carolines on Broadway, G-Unit Records, music artists Jim Jones, Joe Budden, Juelz Santana, Tony Yayo and Omega "El Fuerte." Savva also has multiple television projects in development, including an original series featuring a team of aerial stunt performers co-produced with Bunim/Murray Productions.
Savva notes, "Having the ability to consult with Tim Powers on the storyline and characters of 'Last Call' is a tremendous asset." Savva intends to parlay this collaboration to convert the novel to film. Savva adds, "This project is a perfect fit for a motion picture studio or television network looking to develop a film or series with amazing visuals, ties to real historical events and a strong roster of characters in the throes of a battle between good and evil." Savva predicts that Arcana will announce a deal with a major studio and/or a television network in the very near future.
About Arcana
Arcana pictures was formed by Faust Pierfederici and Michael Yanovich. Pierfederici is a motion picture colorist and cinematographer who has worked on projects including: "Paranormal Activity," "Schindler's List: Voices From the List," "Get Him to the Greek," "The Hills Have Eyes II" and "SpongeBob, SquarePants." Yanovich served as a Director and Supervising Editor for "Criss Angel Mindfreak" and has produced, directed and edited multiple television and film projects.
For additional information please visit http://www.arcanapictures.com
###