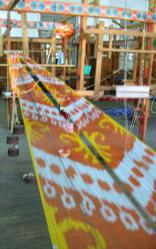 Owing to its eco-friendly nature and fabric quality, ikat fabric is growing more and more in popularity
Uzbekistan (PRWEB) June 10, 2011
Oriental-Creations.com is proud to unveil exciting new ikat fabric designs and custom made ikats added to their already extensive textile collection. Known by interior designers, fashion designers and fine furniture makers worldwide, ikat fabrics are sumptuous additions to any home or wardrobe. Handmade by Uzbek craftsmen using the same techniques pioneered in the 19th century, ikat fabrics remain the perfect unity of luxury and comfort.
"It is impossible to build a great future without knowing its own history and tradition. That is why by revealing Uzbek ikat fabric story and spreading the knowledge all over the world, we are building a bright future together," says, CFO of Oriental Creations Inc.
Blending 60 percent silk and 40 percent cotton in an intricate weave, ikat fabrics feature motifs depicting Uzbek village life, customs and beliefs. Ikat fabrics are dyed using all natural dyes and a resist dyeing process. Tiny plastic pieces are fitted over threads before placing threads into the dye pot. Those spots resist the dye and give ikat fabric thread a singular nature. And Oriental-Creations.com makes even more unique ikats by custom making them according to the precise vision of interior designers, fashion designers or anyone who loves beautiful fabric.
Interior designers and fashion designers everywhere are making ikat fabric the same symbol of power and prestige it has long represented all over Central Asia. Though exotic, the soft fabric is comforting and warm. Oriental-Creations.com stocks both ikat fabric as well as ready-made 40 cm x 40 cm ikat cushion covers.
About Oriental-Creations.com
Since 2006, Oriental-Creations.com has been the premier global supplier of ikat fabrics. From a traditional base in Uzbekistan, the company gives interior designers, fashion designers and furniture makers everywhere access to gorgeous traditional textiles known everywhere as masterworks of Central Asian art. Oriental-Creations.com is committed to fair trade and takes pride in their central role in improving the material lives of their skilled craft workers.
Contact
Ahdurahmon Irismetov
+998-97-1014419
sales(at)oriental-creations(dot)com
# # #