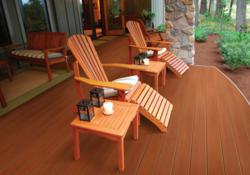 Parksite was pleased to find a tropical hardwood like Abaco decking that mirrors many attributes of Ipe with more consistent availability
(PRWEB) June 30, 2011
Parksite is pleased to announce that it is now distributing Abaco™ tropical hardwood decking, from Aljoma Lumber, in geographies covered by distribution centers in Illinois, Ohio, Maryland and North Carolina. Parksite currently offers 5/4" x 6" grooved and non-grooved decking boards, with plans for railing components and railing kits to be available in the coming months.
"Parksite was pleased to find a tropical hardwood like Abaco decking that mirrors many attributes of Ipe with more consistent availability. We hope Abaco can fill the hardwood decking demand gap and provide opportunity for our customer.," said Scott Thomas, Parksite's Marketing Director. "Abaco decking fits very well into Parksite's vision of offering cost-effective, long-lasting and environmentally-friendly decking materials. Additionally, Aljoma Lumber's sustainable approach to forestry matches seamlessly with our commitment to providing environmentally friendly lumber options as an FSC Certified Distributor," Thomas went on to say.
Abaco tropical hardwood decking features a contemporary European design with a traditional smooth finish on one face and an elegant moulded surface on the other. The moulded surface makes each board slip-resistant and cooler on the feet. Abaco's grooved deck board has slotted sides for quick and easy installation using hidden fasteners. Hidden fasteners help gap each board with the proper spacing and allow for natural expansion and contraction.
Abaco decking naturally resists rot, decay and termites, and is highly resistant to splintering, twisting or cracking. Because Abaco decking is all-natural, it does not need to be chemically treated, which helps preserve the environment. It's competitively priced compared to Ipé and other tropical hardwoods, and is available in a rich mahogany color that resembles Ipé.
"The beauty and warmth of real wood are definitely still desired when it comes to outdoor living," said Kendall Walker, Parksite Lumber Product Manager/Buyer. "With the continued growing popularity of outdoor living spaces, hardwood decking has become a logical extension of the interior space with its hardwood-flooring like appearance."
"Parksite has distributed Scenic Mahogany and Ipé for many years, and Abaco offers a great extension to our current hardwood decking offering," he continued. "Abaco is a beautiful, strong and durable hardwood that is responsibly harvested and manufactured. It offers the characteristics most desired in hardwood decking—rich dark color, natural durability and proven performance. We believe our customers will value this new option in decking."
About Parksite
Parksite is an employee owned company that provides a combination of direct sales, market development and progressive distribution services within the building materials supply chain. We recognize that each customer, manufacturer and product has unique requirements and we customize our services to meet those needs. Parksite defines its position in the supply chain by investing resources in activities that result in accelerated market acceptance of new products. More information about Parksite and its products is available at http://www.parksite.com.
###