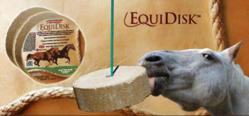 SweetPro's EquiDisk relieves stress and boredom for horses while providing important vitamins and trace minerals.
Walhalla, ND (PRWEB) June 01, 2011
Any time a horse is confined, whether indoors, outdoors or while being transported, it can get stressed or bored, which is bad for equine health. In May 2011, SweetPro introduced EquiDisk, a sugar-free 6 pound healthy horse treat that hangs suspended on a rope, so a horse can relieve stress and have playful activity by nibbling and licking it while receiving healthy nutrition from fermented feeds, vitamins, minerals, prebiotics and enzymes.
Veterinarians see the results that stress, confinement and travel can have on horses, including suppressed immune function, impaired tissue healing and muscle mass loss, all resulting from stress induced cortisol release. As veterinary scientist Christine King reported in an issue of Horses Inc., stressed horses are more susceptible to infections like influenza, "rhino", strangles, shipping fever, EPM and equine herpes (EHV-1 virus). In May 2011, many horses at the National Cutting Horse Association Western National Championships in Ogden, Utah, were exposed to the EHV-1 virus.
Stressed horses are also very prone to gastric ulcers (60% to 80% of performance horses may have them) that often go undetected, and other health problems that can lower performance, prolong recovery, impair healing, decrease appetite and increase potential for injury.
The causes of equine stress can be the simplest things. Changes in routine, extended transport, unfamiliar environments, lack of rest, confinement, competitions and challenging weather can initiate it. Horse owners may see wood chewing, cribbing or other stable vices, a change in their horse's attitude, weight loss and fatigue.
Removing the causes of stress isn't always possible, so in May 2011 SweetPro introduced a new product that does two important things: gives horses a playful bit of activity and provides a nutritional supplement that helps fight the effects of stress. It's EquiDisk – a 6 pound healthy treat that's tied by a rope so a horse can lick, nibble and play with it, while getting important vitamins, minerals, enzymes and protein to sustain healthy equine digestion.
EquiDisk is a solid disk with a hole in the center, easy to handle and provides the same type of digestive supplement aid as SweetPro's 50 and 125 pound EquiLix free choice protein lick blocks. It has no molasses, sugar or corn syrup, and offers important prebiotics, amino acids, vitamins, minerals, omega 3 oils and lignans from flax, plus SweetPro's special ProBiotein digestive additive. Horses lick and nibble the suspended disk as it bobs around on a rope, giving a much-needed activity to a horse that could use a little playful diversion from the stresses of today's equine world.
# # #