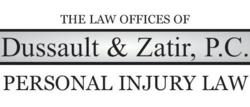 Providence, RI (PRWEB) June 01, 2011
The Law Offices of Dussault and Zatir settle out of court an automobile accident that had occurred in Bristol County, Massachusetts. According to a court documents, the accident involved a rear end collision which resulted in a cervical and lumbar strain. The client of Dussault and Zatir was a self employed golfer who complained of neck and back pain after the accident which affected our client's golf game. The client was initially seen at the emergency room and then treated for three (3) months with a chiropractor. The insurance company offered $6,000.00 and would not increase their offer.
Ultimately, a lawsuit was filed and the insurance company agreed to arbitrate the case. The case was arbitrated and the arbitrator found that the accident did affect the client's golf game and subsequent earnings. The arbitrator found in favor of a client and awarded the client $19,000.00. The whole case was settled out of court.
Dussault and Zatir is a law firm which offer services of personal injury lawyer in Providence Rhode Island.
# # #