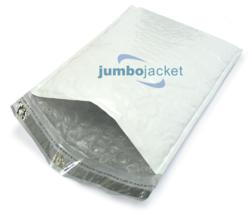 "We are very excited to offer our customers another cost-saving solution with these substantial environmental benefits."– Steve Foster, Vice-President, Sales.
Redmond, WA (PRWEB) June 02, 2011
This ultra-thick bubble mailer, is designed to drastically reduce customers' corrugated shipping costs, and eliminate the need for air filled pillows, packaging peanuts or crumpled kraft paper.
Because of the excessive void-fill materials required in corrugated packaging, the 100% recyclable Jumbojacket is also a winner when it comes to a more environmentally friendly option for shipping your products.
The Jumbojacket is an extra high profile bubble mailer that goes beyond the protection of a regular poly bubble mailer. This bubble mailer is 5 times thicker than the average bubble mailer, lined with a thick ½" bubble vs. the standard bubble.
The Jumbojacket protects your more fragile items in transit such as hardcover books, textbooks, tablet PCs, e-readers, cell phones, and other electronic components in transit.
About PAC Worldwide Corporation
PAC Worldwide, an industry leader and manufacturer of protective flexible packaging, has built their business up since 1975 based on outstanding service and quality products. This international company specializes in custom branded and stock mailers (bubble, flat poly, and paperboard), industrial and retail bubble, security bags, folding cartons and automated bags. They also offer a full line of fulfillment services as well as automated packaging systems for high speed applications.
Jumbojacket is a registered trademark of PAC Worldwide Corporation
###