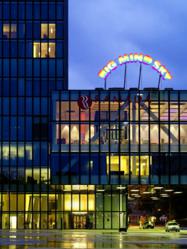 Ugo Rondinone has been defined as a visionary artist trapped in reality.

Artipedia
Grand Rapids, MI (PRWEB) June 20, 2011
Open Concept Gallery, a nonprofit gallery featuring contemporary art in West Michigan, has wrapped up another successful smART Festival and announced today it has begun development of its next big project, ARTalks. The program will be the next logical extension of its online art education publication, mARTini.
"We're taking the next steps in developing Contemporary Art educational content for our existing members," said Dr. Zora Carrier, Executive Director of the gallery. "We've secured a location for filming segments and are now working on a curriculum flexible enough to reach out to West Michigan's diverse community. We're also looking at bringing on someone who could direct the segments so they have a cohesive look. Altogether, I'm so pleased we are at this stage, as we're ahead of this year's development plan."
Open Concept Gallery will likely launch the program at the end of the year, depending upon exhibit scheduling and funding. ARTalks will function as both a structured curriculum to be used in schools and a general educational tool for community members looking to explore the dynamic world of Contemporary Art. It will also be an additional support media tool for exhibits housed on site at the gallery.
Open Concept Gallery began operations in 2006 as a non-profit institution dedicated to increasing the understanding of 21st century art and today's important social issues. The nonprofit gallery organizes a wide range of educational programs for audiences of all ages along with the contemporary art exhibits it hosts. It serves as a platform for the community to collectively consider different perspectives, raise new questions and discover new approaches to the challenges of our times.
For more information about Open Concept Gallery go to http://www.openconceptgallery.org
###