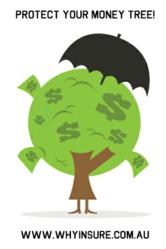 Income Protection Insurance is also known as Income Cover and Salary Continuance Cover if held within a superannuation fund.
(PRWEB) June 28, 2011
Most people recognise the importance of protecting and insuring their car, home or contents from the unexpected, but what about protecting their greatest asset?
For most Australians their greatest asset is actually their income. Income is what gives them the ability to pay the bills and buy the things they need and want.
How would the average Australian be able to pay their weekly bills, repay the mortgage or even put food on the table if they suddenly fell ill, got injured or had an accident and were unable to work?
The simple answer is most would find it very tough. Maintaining their current living standards would mean having to sell assets, borrowing money and seeing their savings dwindle away.
Income protection insurance is an effective and important way one can cover their most important asset, their income.
Income Protection Insurance pays a monthly benefit as a result of being unable to work as a result of injury, sickness or illness.
Many income protection policies will cover up to 75% of gross salary or net income and premiums are generally 100% tax deductible.
Top tips when choosing an income protection policy are to compare a a variety of core policy terms, benefit periods, waiting periods and disability definitions.
Many people are still under the impression that Workers Compensation will come to their aid in the event of injury or illness preventing them working. In reality workers compensation only provides protection to workers as a result of a workplace-related injury or illness only.
With more than 60% of injuries happening outside the workplace it's critical consumers understand the real need to protect their family's lifestyle from any unexpected events.
By replacing regular income, Income Protection Insurance payments can help families maintain a level of financial normality.
Income Protection Insurance also gives financial protection to help the injured or ill individual focus on their recovery or treatment, without worrying about regular expenses.
Why Insure is a specialist online income protection adviser who can assist consumers in finding the right policy for their specific needs.
Why Insure is an innovative new website directed at making it simple for consumers to obtain AAA rated comprehensive income protection insurance with the right advice every step of the way.
###