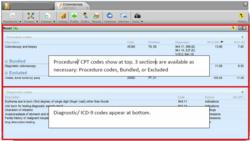 "With the GI Coding Advisor, we are confident our clients can continue to improve patient care, reduce costs and risks, and increase revenue."
Weston, FL (PRWEB) June 01, 2011
Along with enhancements to the task manager and HITECH reports, with this new release comes the highly demanded Procedure Coding Module. Named the GI Coding Advisor, this new module provides guidance for CPT and ICD-9 coding. Based on a series of logic present in the backend of the gGastro system, CPT and ICD9 codes will now automatically be generated based on document finding and interventions.
The coding advisor used at the office eliminates the need for manual entry, saving time and also eliminating human error. gGastro clients need automated coding for procedures for this same reason.
"Our product development team has worked hard and is proud to get this new functionality out to all of our gGastro clients," said Sam Rubinzstain, Vice President of Product Development at gMed. "With the GI Coding Advisor, we are confident our clients can continue to improve patient care, reduce costs and risks, and increase revenue."
CPT codes are now automatically bundled or excluded based on NCCI(National Correct Coding Initiative) that was developed by the Centers for Medicare and Medicaid Services in order to reduce health care cost. The new GI Coding Advisor follows these CCI rules in an effort to increase billing accuracy and reduce claim denials.
"Our coder can now briefly review for errors and then import to our practice management system. The need for manual entry is eliminated," said Mrs.Tasha Cieslak, Director of Special Projects for Gastroenterology Clinic of Acadiana. "This gives her more time to concentrate on other coding that cannot be done by gMed, like hospital charges. Charges becoming more automated allow all charges to be entered more accurately and closer to real time. I feel in the long run, it will improve the turnaround time of the claims process."
For current gMed clients who want to learn more about this new functionality, please visit the release notes section of gGastro at http://www.gmeduniversity.com/index.asp
About gMed
gMed is a private company founded in 1997 to develop Electronic Health Records for single-specialty practices. gMed's application offers an integrated solution that is Specialty Specific and Easy to Use for Gastroenterology, Cardiology and Urology practices. gMed's technology is ONC-ATCB certified and enables practices to collect HITECH and other incentives. With more than 325 practices and over 2,900 physicians, gMed is the preferred EHR solution amongst specialty practices. gMed is a 2008 Fortune 5,000 company based in Weston, FL. For more information, please visit http://www.gmed.com
###