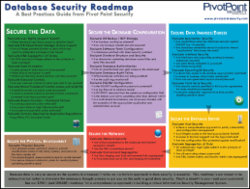 ...put you on the path to good data security
Hamilton, NJ (PRWEB) June 14, 2011
Because data is only as secure as the systems & processes it relies on – a holistic approach to data security is essential. John Verry, Principal Consultant and ISO 27001 Certified Lead Auditor at Pivot Point Security, says "this roadmap is not meant to be exhaustive but rather to stimulate the necessary thought process to put you on the path to good data security."
"That's a benefit to you - and your customers!" says Verry
Database Security is one step in a comprehensive approach to building a robust Information Security Management System. Today, electronic data is critical for almost everything we do. Businesses rely largely on computers, databases and Internet connectivity. Therefore, protecting such assets through information security strategies and implementing effective information security controls are now key business responsibilities. With over 230 reported data breaches in the first 6 months of 2011 and over 2500 reported since 2005 - it is time to flush out database threats and vulnerabilities.
The Pivot Point Security Database Security Roadmap provides insight into:

Securing the Data
Securing the Database Configuration
Securing Data Ingress/Egress
Securing the Database Server
Securing the Network
Securing the Physical Environment
The new The Database Security Guide is now available for free from Pivot Point Security. Please visit http://www.pivotpointsecurity.com/database-security-roadmap to download your copy of the PDF guide.
About Pivot Point Security:
Continually evolving technology, business requirements, regulations, and threats make "being secure" and "proving you're compliant" increasingly complex. The only logical response: Simplify. Pivot Point Security makes it easier to prove that you are secure and compliant. Pivot Point Security knows how important compliance is – and understands database security. For more information visit http://www.pivotpointsecurity.com
Contact:
Scott Kivowitz
Marketing Manager
Pivot Point Security
609-581-4600 ext. 321
http://www.pivotpointsecurity.com
###