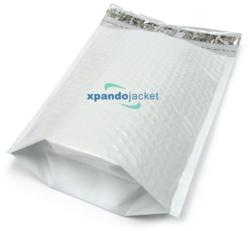 "We are proud to continue to bring innovative solutions, like Xpandojacket, to our customers, which in turn enables them to trim costs and stay ahead of their competition."–Steve Foster, Vice-President, Sales.
Redmond, WA (PRWEB) June 01, 2011
Sometimes the average bubble mailer just isn't good enough to hold bulkier products, and your only other resort is to use a more expensive, corrugated box with void fill. The Xpandojacket is an expandable bottom gusset bubble mailer with a bright white, water resistant triple layered polyethylene exterior. This innovative mailer by PAC Worldwide expands to fit items that need more room such as toys, shoes, handbags, and electronic components.
About PAC Worldwide Corporation
PAC Worldwide, an industry leader and manufacturer of protective flexible packaging, has built their business up since 1975 based on outstanding service and quality products. This international company specializes in custom branded and stock mailers (bubble, flat poly, paperboard), industrial and retail bubble, security bags, folding cartons and automated bags. They also offer a full line of fulfillment services as well as automated packaging systems for high speed applications.
Xpandojacket is a registered trademark of PAC Worldwide Corporation
# # #