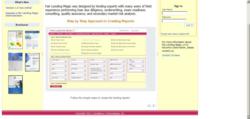 This completely web-enabled fair lending software tool will revolutionize compliance reporting and fulfill new data collection standards from government regulatory agencies.
Washington, DC (PRWEB) May 31, 2011
The increased scrutiny of lending practices affecting minorities, the elderly and women will be easier for lenders and enforcement agencies with the release of Fair Lending Magic™ in June of this year by CLC Compliance Technologies, Inc. (ComplianceTech) . Fair Lending Magic™ is patterned after its desktop cousin Shamus®: The Fair Lending Risk Manager, the first comparative file review software ever invented.
Fair Lending Magic™ automates compliance and fair lending risk analysis for mortgage, auto and consumer lending data. It helps fair lending compliance departments to quickly and efficiently conduct self-evaluations that lead to effective risk management of lending policies and practices. It was designed by lending experts with many years of field experience performing loan due diligence, underwriting, compliance exam readiness consulting, quality assurance, and risk analysis.
The latest version of the software is an entirely web-based hosted solution, thus no software needs to be installed on individual workstations and the latest updates are always available to every registered user. Users can now work in the field at remote locations more effectively than every before. The new features include an easy to use graphical user interface with a step by step approach to fair lending. In addition, users can quickly and securely import HMDA and confidential loan origination data with no personal identifier except an encrypted loan ID. Authentication is by user name and encrypted password plus a customer ID.
"We find that information technology departments and their users are looking for easy to use scalable web applications that are adaptable to workflows. We believe that Fair Lending Magic fits this category of applications and will become the preferred solution for the typical value-driven fair lending department, " says Maurice Jourdain-Earl, Managing Director, ComplianceTech.
With the enhancements found in Fair Lending Magic users can now easily log on to:

Perform a Side by Side Matched Pair Pricing or Underwriting Analysis;
Determine whether differences in pricing or denial rates by race/ethnicity, gender and age are statistically significant or not;
Create an online map plotting loan applications by prohibited characteristics against census tracts shaded according to tract percent minority, tract income, vacancy rates, and foreclosure rates;
Create charts, crosstabs, graphs and dashboards for underwriting, pricing and redlining;
Generate and save reports to PDF to prepare for a fair lending exam;
Compare overall pricing in terms of APR, discount points, or origination fees and control for specific loan product/programs;
ComplianceTech will unveil Fair Lending Magic™ at the upcoming 6th annual Strategic Markets and Diversity Mortgage Industry Diversity Conference to be held in the Washington, DC area on June 22-24, 2011 at the Westin Arlington Gateway, Arlington, Virginia. ComplianceTech is one of the conference sponsors.
ComplianceTech, based in Arlington, VA provides specialized lending intelligence services and innovative software solutions to lending institutions, community organizations and government agencies. The company's software products include LendingPatterns™, Shamus®: The Fair Lending Risk Manager, the Racestimator™, The Premium Pricing Analyzer, and LMI and Minority Zip Code Opportunity Maps™.
###