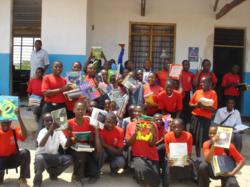 We look forward to continuing to work closely with Pandora Books in the future to ensure more young people in East Africa are able to access the right resources to support their education
King's Lynn, Norfolk (PRWEB UK) 1 June 2011
Pandora Books are pleased to announce their recent collaboration with READ International, the student led book project charity.
Founded in 2004, READ International have established themselves as a national network of student volunteer led book donation projects, based at over 45 British universities. The charity arranges free book collections from UK schools, and once collected these books are sorted and those that meet the criteria and match relevant syllabuses are redistributed to schools in East Africa. READ International also utilise those books that are unsuitable by either recycling the books to generate funds or reselling them.
Since their first shipment of books in 2005, READ International have shipped a total of 850,000 books to East Africa and by the end of this year will ship their millionth book!
As a supplier of books to Britain's schools for over 20 years, Pandora Books have been committed to developing the literacy skills of children and teenagers through their book collections for schools program. With working alongside READ International and providing books for their book distribution programme to secondary schools, Pandora Books have the ability to deliver their commitment to developing literacy both at home and now overseas, and to those who may have previously been denied this opportunity.
Alongside developing literacy skills, both Pandora and READ International share another common goal in their keenness to educate young people about global citizenship and sustainability. Pandora Books produce book collections that promote the importance of both, while separately READ International deliver free workshop programmes to both educate and raise awareness.
For both Pandora Books and READ International, it is clear that their new partnership will be one of great success as Hannah Mitchell, Director of READ International comments "We are delighted to receive a donation from Pandora Books. These school books provide a perfect accompaniment to our suite of donated text books and help to promote a reading culture in Tanzania and Uganda. We are working to increase young people's literacy rates in East Africa, whilst at the same time empowering young people to become active volunteers and world change makers. We look forward to continuing to work closely with Pandora Books in the future to ensure more young people in East Africa are able to access the right resources to support their education"
###