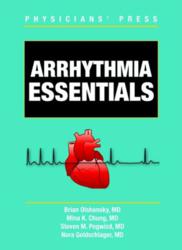 Sudbury, MA (PRWEB) June 01, 2011
Jones and Bartlett Learning is pleased to announce the publication of Arrhythmia Essentials by authors Brian Olshansky, MD, Professor of Medicine, University of Iowa Hospitals; Mina K. Chung, MD, Cardiac Electrophysiology and Pacing, Department of Cardiovascular Medicine, Cleveland Clinic; Steven M. Pogwizd, MD, Associate Director of Research, Division of Cardiology, University of Illinois at Chicago; and Nora Goldschlager, MD, Professor of Clinical Medicine, San Francisco General Hospital.
In the United States alone, more than 850,000 people are hospitalized each year for cardiac rhythm disturbances and thousands more are seen in outpatient settings and Emergency Rooms. Hundreds of thousands of patients die from arrhythmias, making it one of the most common causes of death, but even more people are adversely affected by arrhythmia-related debilitating symptoms.
Arrhythmia Essentials is a current, concise, and detailed guide to heart rhythm disturbances. This pocket-sized reference is packed with vital information and includes specific examples of each arrhythmia, numerous algorithms to facilitate an approach to arrhythmia diagnosis and management, and indications for implantable rhythm management devices and ablation.
Written by leading experts in the field of cardiac arrhythmias, Arrhythmia Essentials provides a unique and contemporary review of rhythm management that is unrivaled by similar books and is a must-have resource for physicians, nurses, students and other healthcare providers caring for patients with cardiac rhythm disturbances.
Chapters include the most up-to-date information on Normal and Abnormal Rhythms, Tachycardia, Supraventricular and Ventricular Tachyarrhythmias, Cardiac Pacing and Pacemaker Rhythms, Drug Effects, Evaluation and Treatment Options and many more.
For more information on Arrhythmia Essentials, including complete table of contents and author biographies, please visit the Arrhythmia Essentials online catalog page.
Jones & Bartlett Learning
Jones & Bartlett Learning is a world-leading provider of instructional, assessment and learning-performance management solutions for the secondary, post-secondary, and professional markets. We endeavor to develop educational programs and services that improve learning outcomes and enhance student achievement by uniquely combining authoritative content written by respected authors with innovative, proven and engaging technology applications that meet the diverse needs of today's instructors, students, and professionals. Across a broad spectrum of fields ranging from public safety to health professions, science, math and medicine, our educational technology applications and instructional assessment and performance-management solutions are revolutionizing how instructors teach, and how students and professionals learn.
###