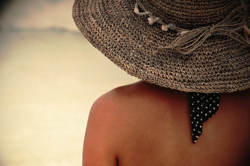 TheBeautyPlace.com wants to strengthen the movement of sun protection by explaining how to attain gorgeous, tanned skin safely.
Miami, FL (PRWEB) June 01, 2011
May is Skin Cancer Awareness Month. It's the perfect time to spread the word about sun protection now that the summer months are upon us. TheBeautyPlace.com wants to strengthen the movement of sun protection by explaining how to attain gorgeous, tanned skin safely.
Skin cancer (Melanoma) is more common now than ever. Melanoma is the most common type of cancer in women 25 to 29 and second most common (after breast cancer) in women ages 30 - 34. More than 90% of skin cancers are caused by sun exposure, and fortunately, that is something we have the power to prevent.
Sun Protection
Protect and maintain healthy skin with SPF products - especially at the beach or during any outdoor activities. SPF measures the amount of time that a product will protect skin. If you normally start to burn after 20 minutes, SPF 15 will make it take 15 times as long for you to burn (20 min. x SPF 15 = 300 minutes/5 hours).
UVB Rays vs. UVA Rays
SPF only measures UVB rays (not UVA). For maximum protection, look for a sunscreen that says it also offers UVA protection. UVB rays cause tanning and skin cancers in the superficial layer of your skin. You'll encounter UVB rays between 10AM and 4PM in the summer season. UVA rays are 50 times more common than UVB and they penetrate the deep layer of skin. UVA rays cause aging and skin cancer and can pierce through clothing and un-tinted glass.
TheBeautyPlace.com launched Supergoop!, a collection of eco-friendly sunscreen products that are paraben-free and carcinogen-free. These sunscreen products have at least SPF 30, are water-resistant, provide UVA/UVB protection and are extremely easy to apply. Supergoop! products are even safe to use on babies. The Supergoop! SPF 30+ Weekend Away Essentials Kit brings a little bit of everything.
Protection Tips:
Apply sunscreen at least 30 minutes before going outside
Use SPF 30 or 45, water-resistant sunscreen with UVA protection
Apply every 2 hours and before and after going in the water
Get a Gorgeous, Safe Glow
Using a good self tanner correctly is a great way to get a healthy glow without risking the safety of the skin. TheBeautyPlace.com offers TanTowel for a quick and even application without any mess. Just swipe the towelettes over the skin and easily avoid splotches and streaks on folds, wrinkles, knees, elbows and fingers.
TanTowel offers TanTowel Classic, a lighter self tanner for beginners and people with fair skin. TanTowel Plus provides a deeper tan for medium to dark skin.
Tips for a Flawless Tan:
Exfoliate first to prevent splotches. Then prep skin with moisturizer. TanTowel offers the TanTowel 3-in-1 X-foliator for these two steps. These moisture-saturated towelettes exfoliate, moisturize and buff.
TheBeautyPlace.com is a leading online retailer of professional beauty products for your hair and skin care needs. Find some of the industry's top beauty brands at extremely competitive prices. Hair products offered by TheBeautyPlace.com range from professional flat irons to styling products. Quality skin care products address skin concerns from anti-aging to acne-prone skin.
Follow TheBeautyPlace.com
On Twitter: @TheBeautyPlace
Facebook: TheBeautyPlace.com Fan Page
TheBeautyPlace.com Blog: Blog.thebeautyplace.com
###