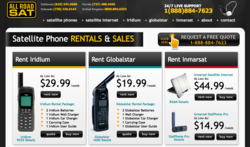 San Diego, CA (PRWEB) June 01, 2011
Allroadsat.com, the leader in satellite phone rentals & sales, is now offering what they believe to be the world's cheapest satellite phone, the Inmarsat iSatPhone Pro Satellite Phone from just $99 with activation. Customers may also now rent the iSatPhone Pro from just $19.99 per week.
"We understand that in the past the price of sat phone handsets has been prohibitive for many and we want to change that" said Chris Hoar, Allroadsat's spokesman. He went on to say, "We are taking the lead from the cellphone companies and subsidizing the price of the satellite phone handsets in order to win subscribers, it's a model we think can work well for everyone".
The iSatPhone Pro has the longest battery life of any sat phone, up to 8 hours of talk time and up to 100 hours of standby. The iSatphone Pro also supports Bluetooth enabling, the use of standard Bluetooth headsets. Inmarsat's iSatPhone Pro satellite phone has coverage across most of the planet, the main exceptions being the polar regions.
"Satellite phones work when cell phone networks & land line phones go down because they do not depend on land based infrastructure like cell towers" said Hoar. "We have seen heavy demand recently out of the Middle East where the Governments of many countries shut down the cell phone lines altogether. We are also now coming into Hurricane Season and NOAA is expecting a busy season, so this is a great time to get prepared before the demand exceeds the supply. Hurricanes, like Katrina, often take out the cell phone and land line networks leaving satellite phones as the only viable form of communication during and after a hurricane."
Allroadsat also offers Inmarsat's BGAN high speed mobile satellite internet service. BGAN can connect you to the internet from almost anywhere on earth at speeds of up to 486kpbs.
"Satellite Communications can save your life, but they can also save your business" said Hoar. "When cell phones, land lines and internet connections go down your customers still expect you to be there, satellite communications can keep you connected to your customers and to the internet regardless of what happens" he said.
Allroadsat is Open 24 hours a day 7 days a week and offers next day shipping to anywhere in the Continental USA. Allroadsat is a Bronze Level Inmarsat Partner.
To purchase your iSatPhone Pro for just $99 click here or call 1-888-884-7623.
About Allroadsat: Allroadsat is based in San Diego, California, and has satellite offices in Colorado, Florida & London, England. Allroadsat has been providing satellite communications services since 2006. Allroadsat rents and sells satcom services for Iridium, Globalstar & Inmarsat. Allroadsat also provides services & products to the US Government via GSA Schedule 70. For more information contact Mike Mikha at mike(at)allroadsat(dot)com or on his direct line at 619-957-9685.
http://www.allroadsat.com
Toll Free 24 Hours 14-888-884-7623
###