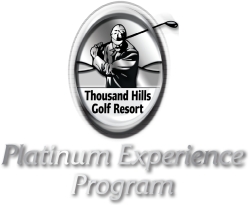 The Platinum Experience is unique...due to the sheer number of businesses who have teamed up to create this package
Branson, MO (PRWEB) June 20, 2011
Branson Missouri has been noted as one of the most affordable vacation spots in the nations, and in 2011 several area businesses have teamed up to offer even more value to vacationers. The Platinum Experience is an exclusive offer worth over $750 and is the result of cooperation between the leading venues in Branson to thank visitors for their patronage.
Guests booking a two bedroom or larger condo, cabin or townhouse at Thousand Hills Resort, a leading lodging provider in Branson, will receive a Platinum Experience gift book at no additional charge. Included in the book are complimentary tickets to popular shows, food at local restaurants, gifts & discounts at many shopping areas in town. Guests who are flying in via the new Branson Airport will also receive a $50 Visa Gift card.
According to Ginger Groves, rental manager at Thousand Hills Resort, "The Platinum Experience is unique in [Branson] due to the sheer number of businesses who have teamed up to create this package." Over 25 local businesses are participating and include some of the most sought-after shows and venues in Branson.
Sight & Sound Theaters are currently providing a free ticket to Platinum Experience members to either of the acclaimed musicals, "Noah the Musical" or "The Miracle of Christmas". Branson standards Shoji Tabuchi, The Presley's, and Clay Cooper are all offering holders a complimentary ticket to their respective shows.
Shows are not the only venues taking part in the Platinum Experience however. The Titanic museum, Hollywood Wax Museum,and restaurants such as McFarlain's, Montana Mike's, and Andy Williams Moon River Grille all have free offers for Platinum Experience holders.
"We wanted to thank our loyal visitors for returning to Branson year after year, and the best way to do this was to offer the full Platinum Experience, from lodging, to shows, to meals & gifts," said Ms Groves. For more information on the Platinum Experience and other Branson discounts vacationers are encouraged to contact Thousand Hills Resort at 1-800-864-4145 or on the web at thousandhills.com/platinum-experience.
###