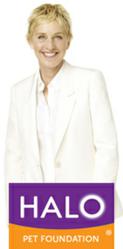 "We're thrilled to support these community leaders providing for the animals and people still in need after these disasters"

Halo CEO and Halo Pet Foundation Board member Steve Marton
Tampa, FL (PRWEB) June 23, 2011
In response to the crises caused by tornados and flooding in the south, the Halo Pet Foundation announced $70,000 in emergency disaster relief grants to eight animal welfare organizations serving communities in dire need.
Grant recipients are Noah's Wish, which helps animals in disasters nationwide, Save our Pets Food Bank and SOS Club in Georgia; Arkansans for Animals in Arkansas; Blount County Animal Shelter and Second Chance Animal Sanctuary in Alabama; Paws, Claws 'N More Rescue in Kentucky; and McKamey Animal Center in Tennessee.
Funds for these emergency grants were raised at the Third Annual PETCO Foundation Gala, where Ms. DeGeneres was awarded the foundation's first-ever annual HOPE Award. Dozens of items were auctioned off at the gala to support the Halo Pet Foundation's work. There was also a special appeal to provide timely support for the four-legged victims of the recent disasters, which resulted in these grants.
"We're thrilled to support these community leaders providing for the animals and people still in need after these disasters," said Halo CEO and Halo Pet Foundation Board member Steve Marton. "We're very thankful for the support of our friends at the PETCO Foundation, their many donors, and our own Ellen DeGeneres, who is tireless in lending her voice and support to animals in need."
Also, Halo nonprofit partner Freekibble.com has donated hundreds of thousands of meals of Halo Spot's Stew to shelters, rescues and food banks in the region, including three of these grant recipients. According to 15 years old Freekibble founder Mimi Ausland, "It is so amazing to be able to help the people and pets in the South that have been struggling after the storms. It makes me very happy to know that the Halo Pet Foundation is now sending money to these awesome groups … they do incredible work and need all the help they can get!" Last month, Freekibble raised over 2 million pieces of Halo kibble in 24 hours to support this disaster relief effort in the southeast. And earlier this month, another 2 million pieces of Halo Spot's Stew was raised for the animal relief effort in Joplin, Missouri.
About the Halo Pet Foundation
The Halo Pet Foundation was established by Ellen DeGeneres and her pet food company Halo, Purely for Pets® to improve the well-being of pets and the people who love them, and to educate on responsible pet ownership. Inspired by love for animals, the Foundation strives to help pets and their families live longer, happier, healthier lives together. Specifically, the Foundation seeks to educate people on responsible pet ownership, eliminating animal abuse and reducing the overpopulation of uncared for pets. Learn more at http://www.halopetfoundation.org.
For over 25 years, Halo, Purely for Pets® has created holistic pet products of uncompromising quality. Halo believes nutrition is the single most important factor in the quality of a pet's life. Halo offers natural pet food, treats, supplements and grooming products - including the award-winning Halo Spot's Stew, Dream Coat and Liv-a-Littles treats. Ellen – a long time Halo customer – became a part-owner of Halo in 2008, saying, "because I think Halo is incredible, I decided to become part owner in hopes that all animals have the chance to be the healthiest they can be… Halo is the best – just read the ingredients!" HALO's natural dog food, natural cat food, treats, supplements and grooming products are available at PETCO, Whole Foods Market, your local pet specialty and natural food store, and online at http://www.halopets.com.
About the PETCO Foundation
PETCO is a privately held specialty retailer that provides products, services and advice that make it easier for our customers to be great pet parents. We operate nearly 1,100 stores in 50 states and the District of Columbia, as well as a leading pet products and information destination at http://www.petco.com. Our nonprofit organization, The PETCO Foundation, has raised nearly $70 million since its inception in 1999 to help promote and improve the welfare of companion animals. In conjunction with the Foundation, we work with and support approximately 7,000 local animal welfare groups across the country to help find homes for more than 200,000 adoptable animals every year.
###