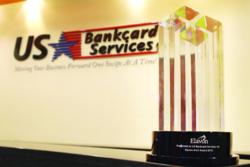 We have achieved great success as an MSP and could not have accomplished this feat if it were not for our merchants, our business partners, and most importantly, our dedicated USBSI personnel
City of Industry, CA (PRWEB) June 06, 2011
US Bankcard Services, Inc. (USBSI), a leading credit card services provider, has earned yet another Elavon top achievement award for its unrivalled devotion to excellence as a merchant service provider (MSP). On Wednesday, April 20, 2011, the Arch Award was presented to Chris Chang, president of USBSI, and his team by Elavon representatives at the USBSI headquarters office in the City of Industry, California. USBSI is the first to receive the Arch Award as it is only given to an MSP who has reached $1.5 Billion USD in transaction volume. This award also celebrates an unparalleled milestone of achievement for USBSI, and if history truly repeats itself, then USBSI could look forward to many more years of stellar performances, awards and success.
In addition to the Arch Award, USBSI has received over 30 awards in the past 11 years, with the most recent being:

2010 Top FDD Volume West Coast Region
2010 2nd Top FDD Producer Overall Channel
2010 3rd Top Portfolio Volume Producer Overall Channel
"We are always looking for opportunities," Chris Chang says. "Opportunities to make our business the best there is by giving our merchants and our partners amazing products and top-notch services in order to bring the most value to their business. All of this is reflected in our merchant portfolio growth, in our partner relationship expansion, and in our overall performance as a company. We have achieved great success as an MSP and could not have accomplished this feat if it were not for our merchants, our business partners, and most importantly, our dedicated USBSI personnel. We look forward to continuing our success in this industry and thank you all for your support!"
About US Bankcard Services, Inc. (USBSI):
US Bankcard Services, Inc. is a top rated MSP that offers competitive rates, incredible customer service support, and cutting edge technology in credit card processing service. USBSI offers a wide array of value-added services, including QuickDining.com (QD) restaurant eCommerce, gift card services, Check Guarantee, PCI –DSS Compliance Consultancy, 24-7 multilingual customer service and technical support. (US Bankcard Services, Inc. is a Registered MSP/ ISO of Elavon, Inc. Georgia)
For more information about merchant bankcard services please visit us at usbsi.com or call us at: 1-888-525-8558.
# # #