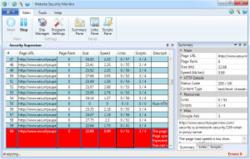 (PRWEB) June 02, 2011
SecuritySupervisor.com, a vendor of free internet security software, today releases a new software tool, the Website Security Monitor, allowing website owners and administrators performing critical tasks of securing websites.
New Website Security Monitor is designed to prevent hacker attacks usually targeting at not only shutting down websites, but also at hidden inculcations of external backlinks into web pages, hidden installations of the malicious scripts or at distribution of viruses or spyware via victim websites.
Moreover, Website Security Monitor detects hacker scripts replacing advertising codes to show own advertising at others websites violating the owners' property.
In addition, Website Security Monitor protects website owners from the damage that may be not only in income loses, but avoiding website penalties by the search engines due to distribution of malware and harmful scripts.
Unlike existing free internet security systems that check website availability and become useless against advanced website attacks, Website Security Monitor is developed taking into consideration all the internet security issues and risks, performing thorough verifications to discover hidden intrusions.
Using the Website Security Monitor webpages can be validated for having any unauthorized links and scripts. The built-in content checker allows validating web pages for inappropriate content using the built-in dictionary, which can be expanded by stop word addition.
The Website Security Monitor helps Google AdSense users to ensure that only advertisements from the specified Google AdSense account to be shown.
Additionally, website administrators can use the built-in Consistency Checker to verify web server and/or database integrity and performance, as well, to insure web page accessibility and to measure performance. Advanced website administrators can add custom rules using the regular expressions to verify each page, as well as to send custom HTTP requests to analyze the server responses.
The fully functional online website security service will be available soon.
Pricing and Availability
The Website Security Monitor works on Windows XP, Windows 2003, Windows Vista and Windows 7 both 32 and 64 bit. The Website Security Monitor is free and available at securitysupervisor.com.
About SecuritySupervisor
SecuritySupervisor.com is a private software company, which specializes in the software development of Internet security products. Free internet security tools help users around the world to stay secured on the web. Additional information is available at securitysupervisor.com.
Editorial Contacts
ss1 at securitysupervisor dot com
+1 (866) 377-6319
###