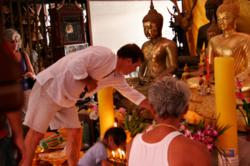 The trip touched me deeply... the experience and the people who made it happen will be a part of me always. The kindness, the laughter, the camaraderie, the challenges, the beauty of the place and the men I met....... filled my heart and soul. - David, NY
New Milford, NJ (PRWEB) June 13, 2011
Come travel the magical land of Thailand on a very special gay vacation. Throughout this journey participants will weave the benefits of all vacations (relaxation, sightseeing, shopping, etc) with a mindful connection to the places and the people encountered. The journey begins in Bangkok with five days visiting some highlights of this Asian metropolis and the surrounding areas, including the Royal Grand Palace with its famous Emerald Buddha, Wat Pho, which houses a marvelous 46 meter long gilded reclining Buddha, the floating markets of Tha Kha, and more.
Next, it is on to the northernmost province of Thailand, Chiang Rai. Chiang Rai was the first capital of the independent, northern Thai Kingdom, Lanna Thai, established in 1262. There, attendees will visit several hill tribes which have settled in the Chiang Rai area, including the Karen Long Neck Hilltribe village.
From Chiang Rai it is wonderfully scenic drive to wonderful Chiang Mai. Chiang Mai has over 300 temples and became the Lanna capitol after Chiang Rai in 1296. Chiang Mai blends its old city center, a moated and walled area, with a modern and vibrant city. It also blends its rich cultural history with modern life.
This journey will be well-paced and relaxed. Spirit Journeys has learned from prior journeys in Asia that "less is more" and so they are providing plenty of opportunity to simply "be" at temples and a lot of free time to experience the people and sites of the these incredible places.
Howie Holben is the guide for this journey. He is also the owner and caretaker of Spirit Journeys. Since early childhood, he has been drawn to indigenous peoples and their spiritual teachings, traditions and practices. This attraction has taken him on many adventures, exploring the countless ways of "being in the world". His personal journey through addiction and recovery has spawned in him a genuine interest in assisting others on their own spiritual path and he takes great pleasure in introducing people to practices, sacred ways and cultures to help them "step outside their box". A Reiki/Karuna Ki Master, Quantum Touch and Breathwork Practioner, his desire is to help others uncover their potential and set their hearts and minds free.
For additional information on this or other Spirit Journeys gay travel, contact Howie Holben or visit http://www.SpiritJourneys.com.
###