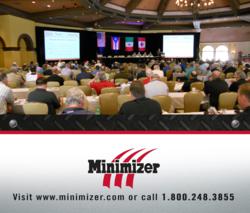 Blooming Prairie, MN (PRWEB) June 01, 2011
A significant new industry group called HDA Truck Pride was created last September by the merger of Heavy Duty America and Truck Pride Partners. The group's first annual show and membership meeting was held April 13-16 in Las Vegas, Nevada and Minimizer was there.
The newly merged buying group had record attendance at the show with 600 attendees representing 123 members and 142 vendors. The vision presented at the show was for the group to be the most cohesive supply chain in the commercial vehicle industry.
As a part of this vision, the focus of HDA Truck Pride is to bring value to fleet programs through better training, technology and service. A panel discussion on Fleet Programs focused on integration of industry changes including federal government regulations and enforcement programs.
HDA Truck Pride also facilitates a value added Truck Serve Experts Program (TSE) that originated in 2004. The program has recognized by the National Fleet Council and the group's goal is to double participation in the program during 2011.
"HDA Truck Pride operates over 700 distribution locations and over 400 service facilities in North America, it's a terrific distribution channel for Minimizer products," said Steve Hansen, National Accounts Manager for Minimizer. "This show is a productive sales opportunity for us to meet and greet a lot of good people in the industry."
Minimizer participated in the vendor booth show. The interaction garnered through the focus on Fleet Programs proved invaluable. "It helps us focus on business development with the end users through our distribution network," added Steve.
Minimizer fenders will enhance the performance of all makes and models of over the road trucks, construction vehicles, or agriculture equipment. Enhance and protect your vehicle with Minimizer products. The toughness is unmatched as seen on this Minimizer promotional video entitled "Tested & Tortured".
To order Minimizer fenders find a distributor by clicking here. Minimizer truck fenders and related products are available through exclusive Minimizer distributors.
For more information or to contact a dealer, call us at (800) 248-3855 or visit our website or email us at info(at)minimizer(dot)com.
About Minimizer
Headquartered in Blooming Prairie, Minnesota, USA, Minimizer manufactures poly truck fenders, poly toolboxes, customized mud flaps, and bracket kits. Family owned and operated for nearly three generations, Minimizer parent company Spray Control Systems, Inc., was founded in 1983. Minimizer aims to provide products tough enough to please tough people in a tough industry. For more information call (800) 248-3855 or visit http://www.minimizer.com.
###