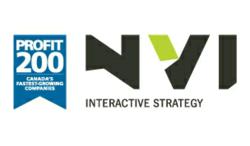 Montreal, QC (PRWEB) June 01, 2011
The largest SEO and Social Media agency in Canada, NVI, has ranked in the Top 50 of the 23rd annual PROFIT 200 ranking of Canada's Fastest-Growing Companies by PROFIT Magazine. The complete rankings of the PROFIT 200 will be published online today at PROFITguide.com.
"We're very excited about this honour," says Guillaume Bouchard, CEO of NVI. "In only six years, we've grown from just four founding members to over 55 employees in Montreal and Toronto, and we attribute that growth and success to our values and a team that's bright and talented."
Focused on generating results, NVI works closely with its partners to develop online strategies that meet the unique needs of their industry and business model. Staffed by a bilingual team of marketers and developers, NVI currently works with companies in Canada, the US and Europe.
Ranking Canada's Fastest-Growing Companies by five-year revenue growth, the PROFIT 200 profiles the country's most successful growth companies. Published in the Summer issue of PROFIT and online at PROFITguide.com, the PROFIT 200 is Canada's largest annual celebration of entrepreneurial achievement.
"The PROFIT 200 companies are the innovative, high-growth enterprises Canada needs to compete on the global stage," says Ian Portsmouth, Editor-in-Chief of PROFIT Magazine. "PROFIT is proud to celebrate their achievements and ambitions, and we encourage all businesspeople to learn more about the many ways they've come so far, so fast."
About NVI
NVI is Canada's largest SEO & Social Media agency, with offices located in Montreal and Toronto. NVI is one of the few Canadian companies to offer a fully integrated online approach. From web development to web marketing, all our services can be found under one roof, in a perfectly bilingual environment. We work closely with clients to help them achieve their online goals, identifying the tools needed to reach them, and developing solutions to generate results.
About PROFIT Magazine
PROFIT: Your Guide to Business Success is Canada's preeminent publication dedicated to the management issues and opportunities facing small and mid-sized businesses. For 29 years, Canadian entrepreneurs and senior managers across a vast array of economic sectors have remained loyal to PROFIT because it's a timely and reliable source of actionable information that helps them achieve business success and get the recognition they deserve for generating positive economic and social change. Visit PROFIT online at PROFITguide.com.
###