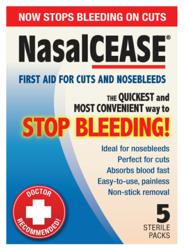 There is no question that with the ability of NasalCEASE to stop bleeding on cuts, we will see this emerge as a primary first-aid product sought by every household.
Mendon, New York (PRWEB) June 02, 2011
Thousands of nosebleed sufferers count on NasalCEASE® everyday to help them quickly and conveniently stop nosebleeds. Now, the benefits of NasalCEASE® have been expanded to safely, quickly and easily stop topical bleeding. Topical bleeding includes those cuts that bleed through multiple band-aids, those difficult shaving cuts for men and women, sports related bleeding that must be quickly stopped before reentering the game and more. Every household has one or more family members who at times experience nosebleeds or topical bleeding. Many households have sufferers of frequent bleeding incidents. Now NasalCEASE® should be considered a must first-aid product for every household in America.
For many, recurring or chronic bleeding issues negatively impact their lifestyles. Chronic sufferers can include those suffering with genetic blood disorders such as HHT, hemophilia, von Willebrand, people taking prescription blood thinners and baby aspirin, nasal allergy sufferers, people living in dry climates or high altitude areas, chemotherapy and radiation patients, women during pregnancy, people who prick their skin as part of daily testing of their blood and others. As mentioned above quickly stopping sports related bleeding is critical. Sports such as wrestling result in disqualification, if a participant can't return to the mat in a specified time.
NasalCEASE® is easy and painless to use, stopping bleeding fast. Whether treating a nosebleed or topical bleeding, NasalCEASE will get you back to what you were doing quickly. For nosebleeds, NasalCEASE® is in and out of the nasal cavity in thirty minutes. For topical bleeding, just cover the wound with the NasalCEASE® product, applying pressure for one minute or until the bleeding stops. If you don't want to wait for the bleeding to stop, place NasalCEASE® on the wound and cover with a piece of tape or band-aid and quickly return to what you were doing. Leaving NasalCEASE® on the wound like you would a band-aid will aid in the healing process. Easily remove NasalCEASE® from the wound with no concern of rebleeding.
NasalCEASE® is a safe, natural based bio-polymer, calcium alginate – an active coagulant which works quickly to stop the bleeding. The 100% natural polymer in NasalCEASE has no side effects or contraindications with other medications you may be taking. As soon as NasalCEASE® comes in contact with blood, calcium is released which activates the coagulation process. NasalCEASE immediately begins absorbing the blood. Calcium alginate can absorb up to twenty times its weight. As a result, the 90% of cuts and nosebleeds can be effectively treated with just one NasalCEASE® pack.
NasalCEASE® is sold in boxes containing five sterile packs. The individual sterile packs are conveniently stored and can be easily carried in a purse or pocket, ensuring easy accessibility whenever and wherever a cut or nosebleed should occur.
"We are very excited to announce the expanded use of NasalCEASE® to stop bleeding on cuts, lacerations, and more," noted Bruce Ford, president, Catalina Healthcare. "NasalCEASE® is already the leading OTC product to stop nosebleeds. There is no question that with the ability of NasalCEASE® to stop bleeding on cuts, we will see this emerge as a primary first-aid product sought by every household. In a recent survey, nine out of ten existing users said they were excited to start using NasalCEASE® to treat topical bleeding. In fact, some already had."
NasalCEASE® can be purchased from more than 30,000 pharmacies nationwide. If a pharmacy does not carry NasalCEASE®, they can order it from their wholesaler for convenient customer pick-up within twenty-four hours.
Nosebleed sufferers can request a trial sample of NasalCEASE® plus $2 in coupons and healthcare professionals can request free patient sample kits and literature by visiting http://www.nasalcease.com or by calling Catalina Healthcare at 1-800-650-NOSE (6673). For more specific product information, a pharmacy locator, and money saving offers, visit http://www.nasalcease.com.
# # #