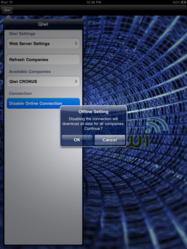 End users, without any development experience, are able to build mobile application such as Order Entry, Contact Manager, and Service Manager, and make it available to the entire mobile workforce
Allen, Texas (PRWEB) June 01, 2011
Qiwi Mobile was first introduced on August 2009 by Qiwi Mobility LLC to help mobile workers to access and update critical business data anytime, anywhere, via Apple iPhone, iPad and iPod Touch. Now Qiwi Mobility makes Qiwi Mobile available for the Apple Suite that will enhance the users experience with mobilizing their businesses.
Now, Qiwi Mobility LLC is offering Qiwi 2.0, a complete reinvention of the Mobility Solution for Dynamics NAV. With new features such as Offline Capabilities, Web service Integration, Codeunit Execution and a new User Interface, it is poised for aggressive growth! "Qiwi version 2.0 has exceeded our expectations with the offline mode!" said Ian Humphries, Product and Technology Director with Touchstone NAV, one of the premier Microsoft NAV partners based in the UK. "The addition of the ability to call functions from buttons following our request was very impressive too! This makes Qiwi a great mobility solution for Dynamics NAV!"
"We listened to the partners over the past year, and put all of their ideas and needs into the Version 2.0," said John Stevens, Vice President of Qiwi Mobility. "Not only that, but with the technologies that Microsoft has implemented, has given us the ability to really leverage the new functionalities of Microsoft Dynamics NAV!"
Some of the new features of the product include (but are not limited to): Offline Capabilities, Codeunit Execution, New UI (user interface), web service integration, Signature Capture and many more.
According to Stevens, Qiwi Mobile and Qiwi HD let users define their own applications, such as customer relationship management, project management, service management, sales orders, sales quotes and purchase orders. "End users, without any development experience, are able to build mobile application such as Order Entry, Contact Manager, and Service Manager, and make it available to the entire mobile workforce," explained Stevens.
See the videos of Qiwi HD for iPad/iPhone and Qiwi for Dynamics NAV.
About Qiwi Mobility:
Qiwi Mobility LLC is a Microsoft Independent Service Vendor (ISV) and Microsoft Gold Certified partner focusing on helping businesses achieve enterprise mobility. Qiwi Mobility delivers its Qiwi product line worldwide exclusively through certified partners to ensure proper installation and local support to end users.
###