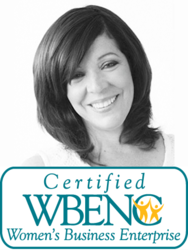 Chicago, IL (PRWEB) June 02, 2011
Chicago-based branding agency Soulsight is very proud to announce that it has received certification as a Woman-owned Business Enterprise (WBE) by the WBENC (Women's Business Enterprise Council).
WBENC is dedicated to advancing the success of women's business enterprises and recognizes corporations that demonstrate their commitment to supporting WBEs through supplier/vendor diversity programs. The organization performs a thorough review for the certification process requiring in-depth documentation of the business and an on-site interview. Applicant companies must be majority-owned and controlled by one or more women.
The designation acknowledges Soulsight as one of few women-owned businesses in the consumer packaged goods and related services field. Established in 1997, Soulsight is 100% privately owned by founding principal Ann Werner. Ann has been the spark and ignition behind the company's success, leading it to international recognition for world-class creativity. In recent years, Ann founded the Soulsight Global Alliance, which spans the US, Latin America, Europe, Africa and Asia, allowing for firsthand, real-time insights regarding innovation overseas.
For more information about Soulsight, contact George Argyros at (847) 681-4444 or visit: http://www.soulsight.com
ABOUT SOULSIGHT:
Founded in 1997 by Ann Werner, Soulsight is an award-winning brand identity and package design agency located north of Chicago with global partners in Latin America, Europe, Asia and Africa. The company's experience spans the development of strategy and design programs for some of the world's best-loved brands to work with niche brands, newly emerging ones, and private label portfolios.
Soulsight is an active presence in the design industry. Earlier this year, the company sponsored the 2011 FUSE conference, also held in Chicago, and members of the team have participated as speakers alongside client partners from MillerCoors and The Hershey Company at past conferences.
ABOUT WBENC:
The Women's Business Enterprise National Council (WBENC), founded in 1997, is the largest third-party certifier of businesses owned, controlled, and operated by women in the United States. WBENC, a national 501(c)(3) non-profit, partners with 14 Regional Partner Organizations to provide its national standard of certification to women-owned businesses throughout the country. WBENC is also the nation's leading advocate of women-owned businesses as suppliers to America's corporations.
CORPORATE PARTNERS:
3M
Advocate Health Care
AIT Worldwide Logistics, Inc.
Alliant Energy
Allstate
American Airlines
American Family Insurance
American Hotel Register Company
AT&T
Bank of America
Baxter Healthcare Corporation
Best Buy Corporation
BP America
BUNN
C.H. Robinson Worldwide, Inc.
Cardinal Health
Cargill, Inc.
CDW
Chicago Public Schools
Citi
City of Chicago
ComEd/Exelon Corporation
Continental Casualty Company (CNA)
Cook County
Cooper Industries
Cub Foods
Deluxe Corporation
Ecolab
Ernst & Young LLP
Federal Reserve Bank of Chicago
Fredrikson & Byron, P.A.
Harley-Davidson Motor Company Harris N.A.
Health Care Service Corporation/BlueCross BlueShield of Illinois
Kraft Foods
Leo Burnett USA, Inc.
Lurie Besikof Lapidus & Company, LLP
M&I Bank
Macy's
Major League Baseball
Manpower
Marathon Petroleum Company
MarketSphere Consulting
MasterCard Worldwide
Mayo Clinic
Medtronic, Inc.
Metropolitan Pier & Exposition Authority (MPEA)
Microsoft Corporation
Minneapolis Public School District
Motorola, Inc.
Nicor Gas
Northern Trust
Northwestern University – Purchasing Resource Services
Office Depot
OfficeMax
Owens & Minor, Inc.
Pepper Construction Co.
PepsiCo, Inc.
RubinBrown LLP
Rush University Medical Center
Smurfit-Stone Container Corp.
Southwest Airlines
Staples, Inc.
State of Illinois
SUPERVALU, Inc.
Target Corporation
Turner Construction Company
U.S. Bank
U.S. Cellular
United Airlines
United Parcel Service (UPS)
The University of Chicago
The University of Chicago Medical Center
University of Illinois at Chicago (UIC)
W.W. Grainger, Inc.
Walgreen Co.
Wisconsin Energy Corporation
Wm. Wrigley Jr. Company
Xcel Energy
###