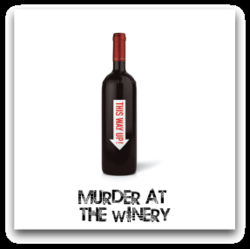 The Crime:
A scream rang out!! Barbara Bond was found dead in the wine cellar from a gunshot wound. Someone is the killer, the rest need to find out who it was. You'll need to find someone with motive, a gun, and opportunity...
Chicago, IL (Vocus/PRWEB) June 16, 2011
Murder Mystery Maniacs, or M3, is a nationwide provider of murder mystery themed parties and, according to press spokeswoman, Maggie Mitchell, it was only natural for them (or perhaps un-natural for them, given the strangeness of the season) to begin offering a murder mystery specifically for Halloween parties. "Whether our clients are planning a corporate gathering, a team building exercise, or simply a home-based dinner party for friends and neighbors, we've got a Halloween murder mystery which is sure to get the group talking (and perhaps even stalking)." "Murder mystery parties offer a unique format to encourage friends, co-workers, and neighbors to interact on a unique level," says Mitchell. "The lights, the fashion, the murder, and the intrigue all are the necessary ingredients for a memorable night!"
"Nothing spices up a party quite like a murder," says David Wachtendonk, who helped establish M3 in 2003. "These types of parties are natural relationship builders and fit in perfectly with the theme of Halloween," according to Wachtendonk "because they allow each guest to exist inside a fantasized world, and to explore their hidden (or not so hidden) potential within." "It is fun," says Wachtendonk, "to give people the gift of escaping reality to become a famous actress, a super model, a billionaire or detective. And working together to solve a mystery is not only the most fun someone could ever have, but because it requires working together to solve the 'who dun it,' it forges relationships, develops problem solving skills, and creates memorable events for every occasion."
Many corporate clients have used murder mystery themed gatherings to establish team building, according to Wachtendonk. Corporations that value team building have used murder mysteries for years to build better communication and relationship among their team members. "And why not work on team and relationships building while having a killer of a time?" says Wachtendonk.
Murder Mystery Maniacs, also known as M3, supplies all that is needed to host your own themed Murder Mystery event. Their murder mystery kits include scenario descriptions, tips and tricks, participant character traits, rules, who-dun-it voting cards, solution packets and even best actor awards. They will also come on-site and host. 3M has murder mystery themed parties for masquerades, detective stories, business and individual holiday parties, corporate events, birthday parties and now Halloween parties. Their clients include Microsoft, Raytheon, Cirque du Soleil, and the House of Blues, among many others. Their headquarters is located 3717 N. Ravenswood Ave #222, Chicago, IL 60613. Call (877) 213-2423 for more information. Visit their website at http://www.host-a-murder-com.
# # #