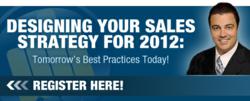 Going into 2012 there is much uncertainty as to how to invest in the sales force
Atlanta, GA (PRWEB) June 01, 2011
Sales Benchmark Index today announced the schedule of their annual research tour. This year's event, "Designing Your Sales Strategy for 2012: Learn Tomorrow's Best Practices Today", will run from June through October 2011. SBI will release the results of their 5th annual Sales Strategy study, during which they analyzed over 11,000 companies worldwide to assess their approaches to the annual sales planning process.
Topics in this year's study include:

Compensation programs that pay reps for the value they create
Organizational models that put the right number and type of reps in optimized territories with reasonable goals
Lead generation programs that fill the funnel
Updated selling methodologies that reflect new buying processes
Ways to attract, select, and on board top sales talent
Getting the most from front line sales managers
"Going into 2012 there is much uncertainty as to how to invest in the sales force", noted Greg Alexander, CEO of Sales Benchmark Index. "Now we know how leading companies plan to go to market in 2012. The percentage of companies who plan to increase investments in 2012 rose to 73.4% from 16% a year earlier. The conversation has shifted away from deciding how much to invest towards where to place the investments."
The 2012 Sales Strategy study analyzed sales organizations across dozens of metrics and found that many companies intend to increase their investments in their sales teams in response to CEO's search for top line revenue expansion. Head count budgets are expected to increase, demand generation spend is forecasted to double, sales training efforts are on the rise, and for the first time in 3 years, target compensation for sales reps is expected to increase.
"At the end of 2010 companies started reporting significant increases in demand for their products and services. Many of these firms have continued this success in early 2011 and as a result are more bullish about 2012. The results of the study show that the strategy for 2012 is pursuit of top line revenue growth, whereas the focus last year was on EPS," said Mike Drapeau, Managing Partner of Sales Benchmark Index.
This year Sales Benchmark Index is presenting their study findings in a nation-wide tour. SBI researchers are traveling to company headquarters and reviewing the 10 best practices directly with sales leaders. The sessions are at no cost to the participating companies for the tour has been sponsored by the firm's publisher. Company executives learn how their sales strategy for 2012 compares to best practices by participating in these interactive sessions. For those that are interested in scheduling a visit from SBI researchers you'll find registration information at
http://www.salesbenchmarkindex.com/tour-sales-strategy-for-2012
About Sales Benchmark Index:
Sales Benchmark Index provides sales consulting services to leading organizations across the private and public sectors.
These companies are seeking to increase their rate of revenue growth. Unlike traditional sales improvement approaches, such as software implementations or skills training, we offer superior value because we rely on the benchmarking method to deliver results. This method of sales consulting allows for results to be delivered quickly with little organizational disruption. This is accomplished through the use of best-in-class diagnostic tools and solutions that are supported with verifiable proof. Each project is executed by the most experienced team of advisors in the industry.
For more information on this research go to: http://www.salesbenchmarkindex.com.
Contact Aaron Mandelbaum for more information:
Aaron(dot)mandelbaum(at)salesbenchmarkindex(dot)com or 888-556-7338
###