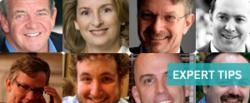 With so many lead generation techniques out there today, small businesses are often left trying to cut through the clutter and identify the ones that are most likely to move the needle
Chicago, IL (PRWEB) June 01, 2011
FutureSimple, a fast-growing provider of simple and intuitive small business software, released today top sales and marketing experts' advice on most effective lead generation techniques for small businesses.
"Small businesses face a dizzying array of choices when it comes to lead generation. Some rely on more traditional methods like trade shows and print ads while others focus exclusively on newer techniques such as inbound marketing and social media. With so many lead generation techniques out there today, small businesses are often left trying to cut through the clutter and identify the ones that are most likely to move the needle", explains FutureSimple's VP of Marketing Gary Gebenlian.
The sales and marketing expert panel on FutureSimple's Growth University small business blog draws from upon a wide range of industry experience to help small businesses understand the pros and cons of the various lead generation techniques available today. The panel's recommendations will help small business owners prioritize their sales and marketing spend more effectively.
About FutureSimple
FutureSimple creates simple and intuitive software to help small businesses grow. FutureSimple's flagship product is PipeJump, a simple but powerful online sales management and customer relationship management (CRM) tool. PipeJump helps thousands of small businesses better manage their sales process in a simple and affordable way. FutureSimple also designed QuoteBase, a free online tool to help small businesses create quick and effective business quotes.
For more information, contact Gary Gebenlian at 312.823.5914 or gary(at)futuresimple(dot)com
###