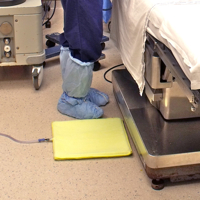 Would you ever consider using your sheets at home to clean up after a toilet overflows in your bathroom, wash them, and then place them onto your bed where you sleep; I wouldn't!
West Palm Beach, FL (PRWEB) June 23, 2011
Many surgeries require irrigation fluid in order to flush blood, tissue and bone within a patient. When exiting the patient as much as 18 litters of the fluid spill directly under the surgical team's feet, and possibly out the door. Hospitals and surgical centers are currently using bed sheets to soak up the irrigation fluid. As many as 8 sheets can be used per procedure. After the procedure, the staff picks up the wet, heavy, dripping sheets with the risk of getting exposed to viruses and bacteria.
Once these sheets are used as bio hazardous absorbing rags, they are then laundered and may be used on patient's beds or back on the operating room floor. Prior to placing them on a bed, floor nurses have complained that they have seen laundered sheets with faded blood stains. These sheets could be a cause of patient exposure. With approximately 1.7 million people contracting hospital acquired infections, such as MRSA and Staph, resulting in around 100,000 deaths, OR Innovations philosophy is that hospitals now more than ever need to enforce stricter methods to control bio hazard.
OR Innovation has recently developed a unique fluid evacuation pad called the Remora. This pad continually sucks up fluid that flows off the operating room table as well as from the floor. The Remora can absorb up to 3.7 liters a minute making it the most effective device available to the medical industry. The Remora can be moved around to absorb any standing fluid both during and after a procedure, speeding up post-surgery cleanup. The time it takes to set the Remora up and discard it after the procedure is around 1 minute versus laying out sheets, picking them up and placing them in the wash. OR Innovation believes that this is the solution to containing bio hazard fluids in a safe way that eliminates contact with operating room staff, speed up operating room turnaround time, and prevents the reuse of bed sheets form the operating room floor to patients beds. President of OR Innovation, Jamie Rawet comments, "Would you ever consider using your sheets at home to clean up after a toilet overflows in your bathroom, wash them, and then place them onto your bed where you sleep; I wouldn't!"
###