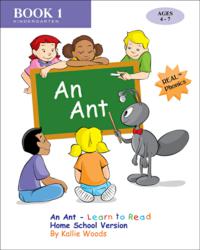 "...phonics instruction produces significant benefits for students in Kindergarten through 6th grade and for children having difficulty learning to read." National Reading Panel (NRP)
Minneapolis, MN (PRWEB) June 01, 2011
Broden Books' newly released phonics curriculum "An Ant - Learn to Read" is offered in response to parents' demand for an updated version of traditional phonics. Although virtually every scientific study of the past 50 years has identified phonics as the best way to teach children to read, schools to the consternation of parents continue to teach reading by the "Whole Word" memorization method, which phonics experts say has lead to an explosion in illiteracy in recent decades.
PHONICS VS WHOLE WORD
Phonics is the opposite of Whole Word reading instruction. Phonics emphasizes letter sounds and minimizes so-called "sight words," while Whole Word emphasizes sight words and minimizes letter sounds, even going so far as to require memorization of simple three-letter words that could be easily sounded-out.
"An Ant - Learn to Read" (Amazon.com $25.19) takes children back to basics by presenting phonics in a new way. Colorful illustrated stories take the place of antiquated charts and lists, motivating children to read. The first few phonics lessons can be downloaded free at BrodenBooks.com.
HOW WE GOT HERE
Long before the advent of Whole Word, Noah Webster initiated the first wave in American phonics curriculum in the 1700s, with the publication of his "Blue Back Speller." Old Blue Back taught children to read for 150 years and enjoyed near exclusivity for 100 years. Our young forebears learned phonics by studying lists like "ab, eb, ib, ob ub," and "bla, ble, bli, blo, blu," which their teachers obtained from the Blue Back Speller. Children were required to learn upwards of 2,000 words and syllables before any stories were presented.
No one can argue that Noah Webster's speller produced the most literate generations in American history, but progressives surfaced from time-to-time, pushing sight-reading as a way to move past the tedious word lists of the ubiquitous phonics readers.
Dick and Jane readers made their inevitable appearance in 1930, and phonics instruction lost traction to Whole Word memorization techniques. By the 1960s, most American children were learning to read by rote memorization rather than phonics.
The Dick and Jane environment of the 60s climaxed with the Reading Wars of the 80s and 90s, when Whole Word and Phonics advocates began to clash ferociously in local schools, state legislatures and Congress. Much of the rivalry died down after April 2000, when the congressionally appointed National Reading Panel (NRP) released its report "Teaching Children to Read." After identifying 1,373 studies published since 1970 that compared phonics instruction to other forms of reading instruction, the NRP found that "...phonics instruction produces significant benefits for students in Kindergarten through 6th grade and for children having difficulty learning to read." The panel found that first graders who were taught systematic phonics were better able to read and spell, and showed significant improvement in their ability to comprehend text.
Whole Word believers reacted vigorously against the NRP's findings, but when the dust settled, they were forced to accept so-called "balanced" reading programs which satisfied political pressure by blending a modicum of phonics with Whole Word programs.
PARENTS REACT
Many parents, aware that something is amiss, have resorted to preparing their own children for Kindergarten with an assortment of second wave phonics programs offered as homeschool curriculum. Second wave phonics revives lists and drills reminiscent of the Blue Back Speller, but the lists are made more interesting through games, tapes and worksheets.
Other parents are under the impression that their children are learning phonics in school, when in fact the phonics lessons, if they exist at all, are usually kept separate from the reading lessons. Children may be told that letters have sounds in one class segment, but reading class still consists of memorizing words rather than sounding them out. At most, students may be prompted for the sound of the first letter of a word, but they are not taught to sound out the entire word.
THE SITUATION TODAY
The inescapable result of decades of Whole Word instruction is a generation of semi-literate adults. A recent study revealed that almost half (47 percent) of adults in Detroit are functionally illiterate. This means they cannot read well enough to carry out daily functions like reading a medicine bottle label, a classified ad or a job application.
Enter "An Ant - Learn to Read," forerunner of a potential third wave in phonics curriculum. Unlike its predecessors, "An Ant - Learn to Read" teaches phonics by means of vividly illustrated stories, rather than word lists and drills. Written expressly for parents to use with preschoolers, the new book features on-page instructions that guide parents step-by-step through each reading lesson. Publisher Broden Books set out to create a phonics curriculum that could be taught by adults who did not themselves learn to read with phonics when young. Free sample reading lessons can be downloaded from http://www.BrodenBooks.com.
###