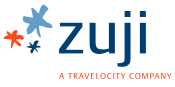 Sydney, NSW (PRWEB) June 01, 2011
ZUJI Australia has today announced a partnership with social media giant Twitter, making them the first Australian travel group to utilise Twitter's new sponsored tweet functionality.
ZUJI's social marketing strategist, Maura Tuohy, of Reprise Media, says she recommended ZUJI as an initial Twitter partner in Australia given the dynamic structure of the business: "The nature of online travel demands two key things from ZUJI; they need to be able to listen to their customers in real time and they also need to be able to release special travel offers at record speed. This partnership will allow the company to broaden its follower group and better communicate to them."
"Additionally, with technology as a core pillar for ZUJI, we felt it was appropriate for the organisation to be among the very first companies to trial the new functionality in Australia," says Tuohy.
Managing director of ZUJI Australia, James Gaskell, says that the partnership will not only help the company build on their rapidly growing social media presence, but also allow them to interact more candidly with their existing and potential customers.
"Utilising Twitter's new functionality, our tweets will provide travellers with insider trip information, hot tips and the latest flight, holiday and hotel deals. More than anything, it's a fun way for our customers to get acquainted with our brand, our personality and what we stand for here at ZUJI."
Social media will be an integral part of the organisation's new business strategy, which was formally rolled out earlier this week.
"Using emergent media technologies, we are able to not only interact with fellow Australians, but more importantly listen to what they have to say," says Gaskell.
###