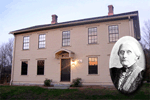 Adams, MA (PRWEB) June 01, 2011
The Susan B. Anthony Birthplace Museum will kick off its first lecture series, "Women, the Berkshires & the World," on June 5 with a discussion of the evolution of the opposition to women's rights by Don Pecor, an adjunct professor at the Massachusetts College of Liberal Arts and a former local high school teacher and administrator.
Pecor is an accomplished women's historian and the author for the Secondary Curriculum Guide for Women's History, published by the Massachusetts Department of Education. His talk, entitled, "Opposing Equality: Different Attitudes, Different Outcomes," will be held Sunday, June 5 at 3:00 pm at the Susan B. Anthony Birthplace Museum, 67 East Road, Adams, MA.
The Birthplace Museum Lecture Series presents experts on local, Berkshire history and the history of women's rights. All events are open to the public, and most are free of charge.
Other talks in the series:
Saturday, July 30, 3:00 p.m.: Local history tour guide Paul Marino will present "Important Visitors to the Berkshires." Marino, regarded as a "walking encyclopedia" of local history, will focus on prominent figures that have come to the Berkshires in the past and their influence on the region. Free, at the Birthplace Museum.
Friday, August 12, TBD: Birthplace Museum President Carol Crossed will be the guest speaker at the Westchester County Women's Equality Day at the Westchester County Courthouse in White Plains, New York. Crossed is a published political activist with a focus in women's rights. For more information, call 413-743-7121.
Wednesday, September 14, 5:00 p.m.: A special wine and cheese event will be held as part of the Williamstown Chamber Night. The Birthplace Museum's Gift Shop Manager Mary Lou Beaudin and Site Manager Sean Carollo will discuss the Birthplace Museum and its appeal to both local and women's history. $5.00, at the Birthplace Museum.
Sunday, October 2, 3:00 p.m.: Brown University Ph.D. student in Anthropology Emily Button will present "Gender Roles in New England Whaling Communities." Button will discuss the gender roles in families affected by the whaling trade, as well as the role of women in Native American and Quaker communities in New England. Button's academic focus is on the eighteenth and nineteenth century whaling on indigenous coastal communities. Free, at the Birthplace Museum.
Wednesday, October 5, 6:00 p.m.: Birthplace Museum Site Manager Carollo will discuss the value of historical houses in documenting local history, using the Susan B. Anthony Birthplace Museum as an example. Free, at Bascom Lodge, at the summit of Mt. Greylock.
Friday, October 23, 3:00 p.m.: Brian Lee, Ph.D., a Harvard graduate and gendercide expert will discuss the group he heads in Boston, All Girls Allowed, a non-profit group that focuses on exposing the human rights violations that come out of China's one-child policy. Lee will talk about the book, A Heart for Freedom: The Remarkable Journey of a Young Dissident, Her Daring Escape, and Her Quest to Free China's Daughters, written by AGA Founder Chai Ling. Free, at the Birthplace Museum.
The Birthplace Museum was recently restored, and opened in the spring of 2010. This rural, Federal-style home contains period pieces, ephemera, and a detailed timeline and shows family and work life in the early 1800s. For more information, contact the Susan B. Anthony Birthplace Museum, 413-743-7121, or visit http://www.susanbanthonybirthplace.org.
The Susan B. Anthony Birthplace Museum and Gift Shop:
Spring/Summer (Memorial Day-Columbus Day): 10:00 a.m. – 4:00 p.m., Thursday-Monday.
Fall/Winter (Columbus Day-Memorial Day): 10:00 a.m. – 4:00 p.m., Thursday-Saturday.
Call to arrange private tours: 413-743-7121
Admission: $5.00, adult; $3.00 student or senior citizen; free, children six and under.
http://www.susanbanthonybirthplace.org
###