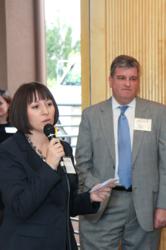 "School choice isn't a Republican issue or a Democratic issue, it's about making sure that we as a society do not fail another generation of America's children." -- Joe Trippi
Muskegon, MI (PRWEB) June 01, 2011
More than 75 national education leaders from across the country saluted the Douglas County Board of Education at a special event on Wednesday night (May 25, 2011), honoring the board for enacting the nation's first-ever locally-created school voucher program. The reception was held at the home of Myles Mendoza, a Douglas County resident and education activist.
The special event brought together political luminaries from both parties -- including leading analysts Dick Morris and Joe Trippi -- along with representatives from many of the nation's major education reform organizations. The attendees publicly honored the seven-member Douglas County Board of Education, led by John Carson, and recognized Dr. Elizabeth Celania-Fagen, the county's pioneering public school superintendent. The program, which allows children in grades K-12 to receive district-funded scholarships to attend the private schools of their parents' choice, has been extremely popular -- with 495 children accessing vouchers this year alone.
Fagen and Carson mentioned that the unanimous passage of the voucher program -- and its seamless enactment -- will yield benefits not only for children in the region, but for the area's economy.
The event dovetailed with a national planning meeting for the second annual National School Choice Week, which will take place from January 22-28, 2012. The festivities, which feature locally-planned events from across the country, are designed to shine an unprecedented spotlight on effective educational options for children. The 2011 National School Choice Week featured more than 150 events, generating more than 500 news articles that reached 34 million Americans. Tens of thousands of children, parents, teachers, and community activists participated in the events.
"School choice isn't a Republican issue or a Democratic issue, it's about making sure that we as a society do not fail another generation of America's children," Trippi said.
According to Morris, "school choice is sweeping the nation, and more children will have access to better educational options by 2013 than we can imagine today." Indeed, a record amount of school choice legislation is moving in statehouses across the country.
"The new school voucher program in Douglas County is an example of what we're seeing across America -- people of all backgrounds working together, and against all odds, to do what's right for children and families," said Kyle Olson, executive director of National School Choice Week.
For more information, visit http://www.SchoolChoiceWeek.com
###